Michelle's FreeFrom cauliflower and broccoli florets with okra
Corn, dairy, egg, gluten, nightshade, nut, soya and wheat free

This could be used either as a vegetable with a roast or as a vegetarian dish on its own.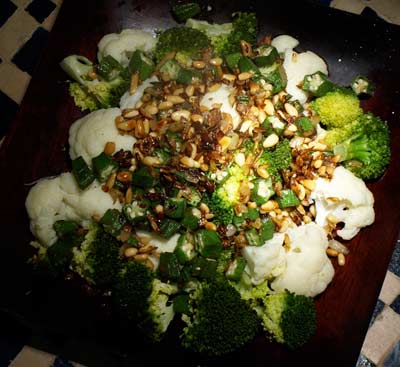 I medium head of cauliflower, broken
into florets
2 head broccoli, broken into florets
2 tbsp olive oil
1 medium onion, finely chopped
approx 40g / 2oz piece fresh ginger, peeled and cut into thick matchsticks
15–20 okra, topped and tailed and cut into thick rounds
3–4 tbsp pine nuts
wheat and gluten-free soya sauce
Steam the cauliflower and broccoli
until just cooked but still slightly crunchy then turning into a serving dish and keep warm.
Meanwhile, heat the oil in a wide pan and add the onion and ginger. Cook gently for at least 5 minutes or until the onion is quite soft.
Add the okra and pine nuts, increase the heat and cook slightly more briskly for a couple of minutes until the okra has lost a little of its crunch and the pine nuts are slightly coloured.
Spoon the mixture over the florets in the dish and sprinkle liberally with soya sauce to serve.
Serves 6 – per portion
143cals – 7g protein
10g total fat – 1g sat / 4g mono / 4g poly
6g carbohydrate of which 5g sugar
4g fibre – trace sodium / trace salt
90mg calcium
Good Source of: Vitamin B6 & folate
Back to more freefrom vegetable and vegetarian recipes