Michelle's FreeFrom Carrots braised with leeks
Corn, dairy, egg, gluten, lactose, nightshade, nut, soya and wheat free
This is such a simple dish but I think greatly enhances both the carrots and the leeks. You can use it as a vegetable with any meat or fairly robust flavoured fish – or as a vegetarian dish to go with root vegetables, rice or pulses.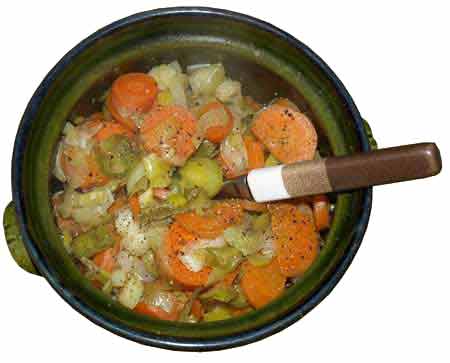 4 tbsp olive oil
4 medium leeks, sliced quite thinly
8 medium carrots, sliced in fairly thin rounds
sea salt and freshly ground black pepper
Heat the oil in a heavy, lidded pan.
Add leeks and fry very gently for 5 minutes or until they start to soften. Add the carrots, stir thoroughly, then cover and reduce the heat so that they cook very gently.
Leave to braise for 25–30 minutes rot until the carrots are just soft to a knife.
Season lightly with sea salt and generously with black pepper and serve.
Serves 4 – per portion
Calories 191 Kcals
2.8g Protein
12g Fat (2g Sat fat, 8g mono, 1.5g poly)
19g Carbohydrate of which 17g Sugar
7g Fibre, 52g Sodium, 0.13g salt
74mg Calcium

Good Source: Vitamin B1, B6, C
Back to more freefrom vegetable and vegetarian recipes