Michelle's FreeFrom Carrot and parsley salad with cider vinegar
Corn, dairy, egg, gluten, lactose, nightshade, nut, soya and wheat free

This has to be about the simplest salad in the world – but none the less, delicious!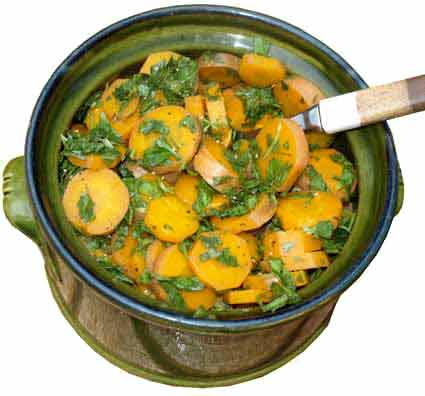 1 kilo/ 2 lbs young carrots, topped
tailed and scrubbed or peeled as necessary
3 very large handfuls of fresh parsley, either flat leaved or curly
3–4 tbsp cider vinegar
lots of freshly ground black pepper
Cut the carrots into medium thick rounds and steam for around 20 minutes or until they are cooked but not squishy.
Chop the parsley as finely as you feel appropriate.
When the carrots are cooked, turn into
a serving bowl, add the parsley and vinegar and black pepper while the carrots are warm so that they absorb the flavours and mix well.
Serve at room temperature.
Serves 4 as a main dish (6 as a vegetable) - per portion
90Calories
1.5g Protein
0.8g Fat (0.3g Sat fat, 0g mono, 0.5g poly)
20g Carbohydrate of which 19g Sugar
6g Fibre, 63mg Sodium, 0.16g salt
63mg Calcium

Good Source: Vitamin B1, B6, C
Back to more freefrom vegetable and vegetarian recipes