Michelle's FreeFrom Carrot and leek tart with ginger
Corn, egg, gluten, nightshade, nut, soy and wheat free; can be dairy and lactose free
Carrot and ginger soup is a classic – but how about carrot and ginger tart?.....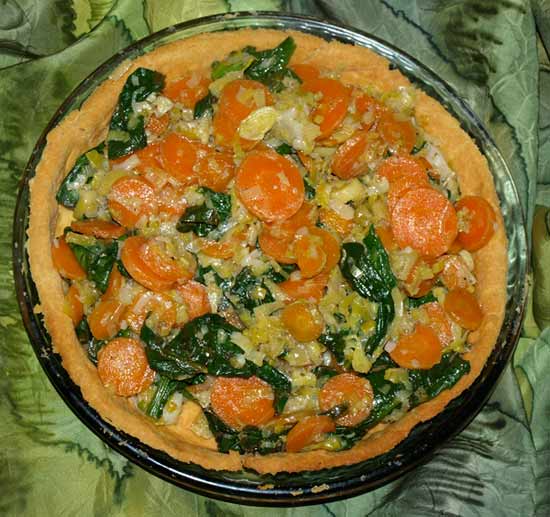 Serves 4
3 tbsp olive oil
300g/ 12oz carrots, scrubbed and sliced in thin rounds
3 medium leeks, trimmed and finely sliced
40–50g/ 1 ½–2oz ginger root, trimmed and cut into thin matchsticks
150g/6ozs gram/chickpea flour, sieved
100g/4oz rice flour
1 level tsp xanthan gum
125g/5oz dairy-free spread or butter, if you can eat it
80–100ml chilled water
150g/6oz fresh spinach leaves
sea salt and freshly ground black pepper
juice 1 lemon
Heat the oven to 180C/350F/Gas mark 4
Heat the oil in a wide pan and add the carrots, leeks and ginger root. Sweat very gently with the lid on for 30–40 minutes.
Meanwhile, make the pastry by whizzing the flour and the xanthan gum in a food processor with the spread or butter until it is the texture of breadcrumbs. Tip out of the processor into a bowl and add the water, pulling the flour into the centre and quickly kneading into ball – do not over work.
On a floured board, rollout the pastry and line a 20cm/8 inch flan case. Line with foil and weight with beans or rice and bake for 25 minutes. Remove the foil and beans and cook for a further ten minutes to crisp up the bottom of the pastry case.
Add the spinach leave to the carrot mix and allow them to wilt then mix them in. Season with salt, pepper and lemon juice them spoon into the flan case.
Serve warm or at room temperature.
Per portion
559 Calories
15g Protein
38g Fat (18g Sat fat, 13g mono, 4g poly)
41g Carbohydrate of which 9g Sugar
10g Fibre, 288mg Sodium, 0.7g salt
120mg Calcium

Good Source: Vitamin A
Back to more freefrom vegetable and vegetarian recipes