Cabbage with Tahini Dressing
Corn, egg, gluten, lactose, milk, nightshade, nut, peanut & wheat free
The nutty richness of the tahini works well with the crunch and slight bitterness of the cabbage.
Serves 2 as a main or 4 as a side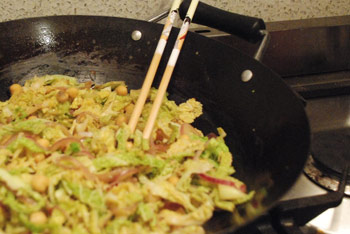 Ingredients
1 tsp rice vinegar
3 tsp wheat free tamari
1 tsp mustard
1 tbsp tahini
3 tbsp water
1 tbsp oil
1 savoy (or other) cabbage
1 red onion
1 can chickpeas drained
Method
Put the rice vinegar, tamari, mustard, tahini and water into a jar with a lid.
Put the lid on and shake until mixed.
Or mix all the ingredients in a bowl with a whisk.
Leave at room temperature.
Cut the cabbage into quarters, remove the core and slice thinly.
Cut the onion in half, remove the core and slice thinly.
Heat the oil in a wok or large saucepan.
Add the cabbage and onions and cook for about 4 minutes.
Add the chickpeas and heat through for another minute.
Pour the dressing over and stir through.
Serve immediately.
We have over 800 delicious freefrom recipes on this site all of which are gluten free, most of which are dairy and lactose free and many of which are free of most other allergens. Please go to the following sections to try them out: