Michelle's FreeFrom Butternut squash with ginger, aubergines and okra with brown rice risotto
Corn, dairy, egg, gluten, lactose, nut, soya & wheat free
This is a brilliantly colourful and really delicious dish – the okra, aubergine/egg plant and okra/ladies' fingers making it very unctuous and soft; the raw fennel and pine nuts just adding texture.
I served it with a nutty brown rice risotto.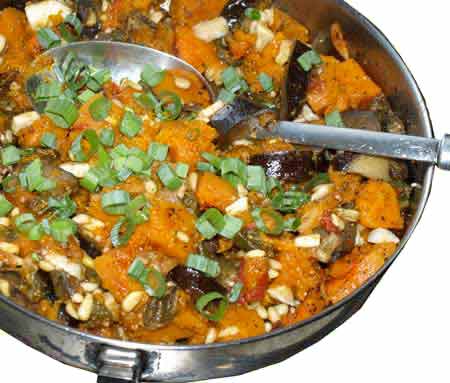 5 tbsp olive oil
10 cloves garlic, peeled and sliced
30g/ 1oz fresh ginger root, peeled and cut into think matchsticks
250g / 8ox okra/ladies' fingers – topped, tailed and sliced
2 heaped tsp mixed dried herbs
1 medium sized aubergine/egg plant, topped, tailed and sliced thickly with the slices then cut in half
600g/1 1/4 lb peeled, pipped and diced butternut squash
200g / 7ozs tinned chopped tomatoes
sea salt and freshly ground black pepper
200ml / 7/8 cup gluten and wheat free vegetable stock
40g / 1 ½ oz pine nuts
½ a bulb of fresh fennel, chopped very small
green parts of 6 spring onions/scallions, sliced
Heat the oil in a wide pan, add the garlic and ginger and fry gently for a few minutes, then add the okra/ladies' fingers, the herbs and the aubergine/egg plant and continue to cook fairly briskly until they ar starting to colour and soften.
Add the squash, tomatoes and stock and season lightly. Bring ot the simmer, cover and cook quite gently for 10–15 minutes or until the squash and aubergine are soft.
Add the pine nuts and chopped fennel and adjust the seasoning to taste.
Just before serving, scatter over the chopped spring onions/scallions.
Serves 4– 6 depending on whether as a vegetable or a main course
Per portion - 4
297 Calories
8g Protein
22g Fat (3g Sat fat, 12g mono, 5.5g poly)
19g Carbohydrate of which 12.5g Sugar
7g Fibre, 135g Sodium, 0.3g salt
208mg Calcium

Good Source - Vit C, Vit B6, B1, Magnesium
Back to more freefrom vegetable and vegetarian recipes