Michelle's FreeFrom braised chicory with lentils, butter beans and red peppers
Corn, dairy, egg, gluten, lactose, nut, soya and wheat free
A rather unusual but tasty combination. Blanching the chicory briefly in acidulated water just takes off that slightly bitter edge that some people find unpleasant. You can use it as a dish in its own right or as an accompaniment to a roast.
Serves 4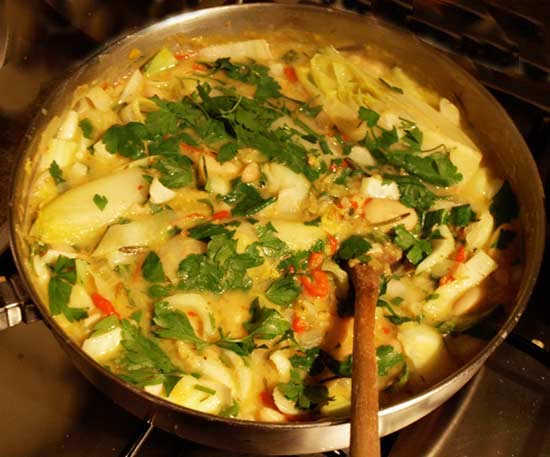 1 heaped tbsp coconut oil or 2 tbsp olive oil
1 large or 2 medium onions, finely chopped
1 large stick celery, finely chopped
2 long red peppers, cut into long, thin matchsticks
several sprigs of fresh thyme or 2 tsp of dried
100g/4oz red lentils
500ml/generous 15 floz gluten and wheat free vegetable stock
1 x 400g/14oz tin butter beans, drained
1 small head choi sum or other small Chinese green leaf or a handful of chard or spinach, chopped roughly
4 heads chicory
½ lemon
sea salt and freshly ground black pepper
a large handful of parsley, flat leaved if possible
Heat the oil in a deep, wide pan and add the onion, celery, peppers and the thyme. Fry gently for 15 minutes or until all are well softened. Add the red lentils and the stock. Bring to the boil, cover and simmer for 10 minutes, then uncover and continue to cook for a further 5 minutes or until the lentil are totally 'mushed' into the stock to form a thick sauce.
Add the butter beans and the choi sum or chard/spinach and stir gently keeping the heat low – just enough to heat through the beans and wilt the greens.
Meanwhile bring a pan of water just big enough to hold the chicory to the boil.
Trim any outside leaves off the chicory, and halve them lengthways. Squeeze a little lemon juice into the water and then drop in the chicory heads. Leave for no more than a minute and remove with a slotted spoon.
Add the chicory to the pot and stir gently to incorporate it into the pot with breaking the heads up too much.
Season to taste.
Just before serving add lots of roughly chopped parsley.
Serve with a green salad.
Back to more freefrom vegetable and vegetarian recipes