Michelle's FreeFrom Brussel sprout and celeriac salad with horseradish
Corn, dairy, egg, gluten, lactose, nightshade, nut, soya and wheat free

This is a 'vigorous' salad!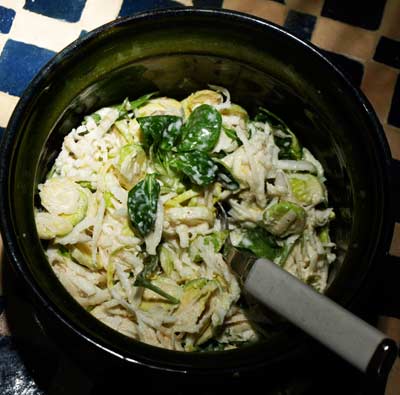 200g / 7oz Brussel sprouts, trimmed
and finely sliced
200g / 7oz celeriac root, peeled and coarsely grated (shredded)
Juice 1–2 large lemons
2 heaped tsp grated horseradish
2 heaped tbsp egg–free mayonnaise
sea salt and freshly ground black pepper
2 tbsp boiling water
approximately 50g / 2oz of either
fresh rocket or lamb's lettuce
Mix the grated Brussels with the celeriac and sprinkle on the lemon juice to stop the celeriac browning.
In a bowl, mix the horseradish with the mayonnaise, season with salt and pepper and thin with the boiling water. Use to dress the salad.
Once dressed, adjust the seasoning
to taste and add more lemon juice if you feel it needs it.
Just before serving, mix in the rocket or lamb's lettuce.
Serves 4 – per portion
Calories 94 Kcals
3g Protein
7.5g Fat (1g Sat fat, 5g mono, 0.9g poly)
4g Carbohydrate of which 3.3g Sugar
4g Fibre, 75g Sodium,0.19g salt
43mg Calcium

Good source of: Vitamin B1, Folic Acid
Back to more freefrom vegetable and vegetarian recipes