Michelle's FreeFrom beetroot and watercress salad
Corn, dairy, egg, gluten, lactose, nightshade, nut, soy and wheat free
So simple, so colourful, so delicious….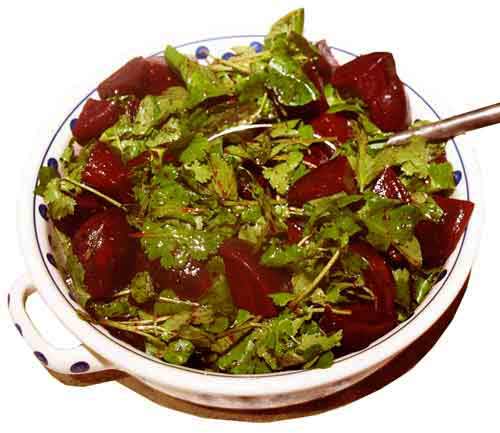 Serves 4
450g/1lb young raw beetroot
1 bunch watercress
1large handful fresh coriander
approx 1 tbsp raspberry or other fruit vinegar
approx 2 tbsp olive oil
sea salt and freshly ground black pepper
Top and tail the beetroot, scrub them and halve them. Steam them for 15–20minutes or until soft when prodded with a sharp knife.
Remove them and cut into large bite size pieces. Trim the stalks off the watercress and the coriander and mix the leave gently into the beets. Season to taste and dress to taste with the oil and vinegar.
Back to more freefrom vegetable and vegetarian recipes