Michelle's Freefrom Vigorous Bean Salad
Corn, egg, gluten, lactose, milk, nightshade, nut, peanut, sesame, soya & wheat free
Dressing the beans when they are warm allows them to really absorb the flavours of the dressing.
Serves 6
Ingredients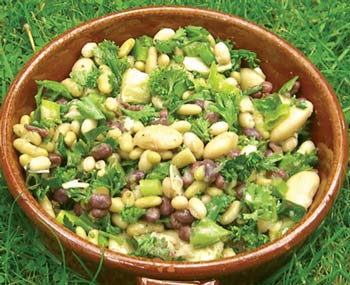 1 x 400g tin / 14 oz can each of butter, aduki, haricot and flageolet beans

4 cloves garlic (optional)

1-2 tbsp dried sea vegetables

6 spring onions (scallions), trimmed and cut small

400g tin / 14 oz can artichoke hearts, drained & quartered

2 large handfuls parsley, chopped fairly roughly

sea salt and freshly ground
black pepper

1-2 lemons

4-6 tbsp oil
Method
Open and drain most of the liquid out of the tins of beans.
Mix them well in a large bowl.

Peel the garlic, if you are using it, slice the cloves finely and mix them into the beans.

Heat the beans gently in a microwave or over a low heat until they are about blood temperature then remove from the heat.

Mix in the dried sea vegetables, spring onions (scallions), artichoke hearts and parsley, season generously and dress with the lemon juice and oil to taste.
Leave to cool to room temperature to serve.
Serves 6 - per portion
294cals - 16g protein
10g total fat - 1.5g sat / 7g mono / 1.5g poly
37g carbohydrate of which 6g sugar
13g fibre - 871mg sodium / 2.2g salt
100mg calcium
Good Source of: Vitamin B6, iron, magnesium
We have over 800 delicious freefrom recipes on this site all of which are gluten free, most of which are dairy and lactose free and many of which are free of most other allergens. Please go to the following sections to try them out: