Michelle's Freefrom Avocado and Pecan Salad
Corn, egg, gluten, lactose, milk, nightshade, peanut, sesame, soya & wheat free
A very simple but delicious salad to be eaten at lunchtime or used as a starter.
Serves 6
Ingredients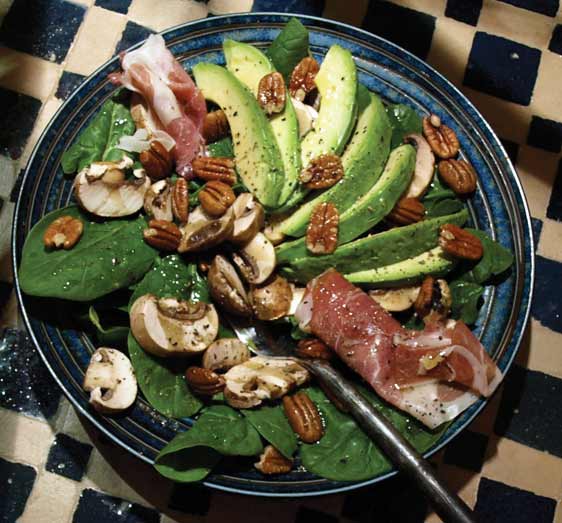 6 handfuls fresh baby-leaf spinach

250g / 9 oz button mushrooms, sliced

3 avocados, halved, stoned (pitted) and sliced

6 tbsp pecan nuts

12 slices Parma ham (optional)

juice 2 lemons

6 tbsp virgin olive oil

sea salt and freshly ground
black pepper
Method
Lay the spinach out on 6 plates and sprinkle the sliced mushrooms on top.

Arrange the avocado halves in a fan shape then sprinkle over the pecan nuts.

If you are using it, roll up the Parma ham slices and arrange on the plates.

Drizzle the lemon juice and oil over each plate and then grate over some sea salt and black pepper.

Serve at once.

We have over 800 delicious freefrom recipes on this site all of which are gluten free, most of which are dairy and lactose free and many of which are free of most other allergens. Please go to the following sections to try them out: