White sauce
Gluten, dairy, soya, egg, nut free
I originally came up with idea for this sauce as a way to hide cauliflower from my son. The browning of the cauliflower from roasting and the Marmite actually make the sauce more brown than white, while the cauliflower does also make it a little grainy but I've used it successfully in lasagne, fish pie and macaroni 'cheese'. You can boil the cauliflower which keeps the colour more white but results in less flavour. For a milder taste you could add a little stock powder but I use Marmite for a more salty, cheesy taste. The picture shows the sauce mixed with pasta and then grilled.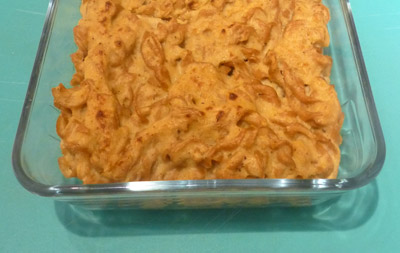 Ingredients
1 cauliflower
1 tsp olive oil
1 heaped tbsp dairy free spread
1 heaped tbsp gluten free flour
400ml oat (or other dairy free) milk
(NB. If you use Oatly be aware that it does not declare itself gluten-free, whereas Rude Health oat milk does.)
1 tsp Marmite
Preheat oven to 180c.
Cut the cauliflower into quarters and break into evenly sized florets.
Place on a roasting tray and coat in the oil.
Cook for about 20 minutes until soft and just starting to brown. (This is a delicious way to cook cauliflower and eat it just as a veg)
Melt the dairy free spread in a saucepan and then add the flour.
Keep mixing until you have a smooth dough.
Add the milk a little at a time while stirring constantly until you have a smooth sauce.
Remove from the heat, add the cooked cauliflower and whizz with a blender.
Return the saucepan to the heat and add more milk if neccessary.
Add Marmite or stock powder to taste.

Back to more freefrom vegetable and vegetarian recipes