Michelle's Freefrom Spinach and Avocado Salad with Mozzarella
Corn, egg, gluten, milk, nightshade, nut, peanut, sesame, soya & wheat free
A lovely, light salad which you could use a a starter or as a light lunch dish. If you cannot tolerate any animal milks, you could use a soya 'mozzarella' or just leave the mozzarella out and add some extra avocado.
Serves 4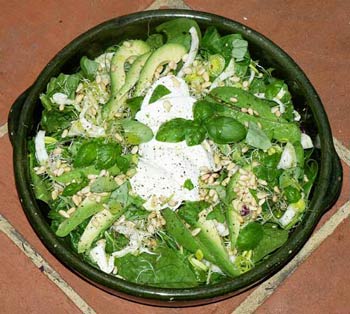 Ingredients
4 handfuls fresh spinach leaves – preferably mature leaves rather than the 'baby' leaves which have very little flavour

half a bulb of fresh fennel, sliced thinly

1 young leek, sliced thinly

large handful alfalfa or other favourite sprouted seeds

1 ripe avocado

1 'bulb' of buffalo mozzarella

1 heaped tbsp pine nuts

several sprigs of fresh basil

sea salt and freshly ground black pepper

juice 1–2 lemons

4 tbsp virgin olive oil
Method
Tear up the spinach leave in the bottom of a wide dish.

Sprinkle over the sliced fennel and leek and the seeds.

Peel the avocado and slice lengthways – arrange over the leaves.

Slice the mozzarella if you are using it and lay out in the middle of the dish.

Sprinkle over the pine nuts then decorate with the basil leaves, both chopped and whole.

Grate over some sea salt and lots of black pepper, then pour over the lemon juice and the oil.

Serve at once.

Serves 4 – per portion
Calories 311 Kcals
10g Protein
29g Fat (9g Sat fat, 15g mono, 4g poly)
2.5g Carbohydrate of which 2g Sugar
3g Fibre, 200g Sodium, 0.5g salt
200mg Calcium

Good Source: Vitamin B12, B6, calcium
We have over 800 delicious freefrom recipes on this site all of which are gluten free, most of which are dairy and lactose free and many of which are free of most other allergens. Please go to the following sections to try them out: