Freefrom Butternut Squash, Ginger and Beetroot Soup
Corn, egg, gluten, lactose, milk, nightshade, nut, peanut, sesame, soya & wheat free
The flavour of the soup will be even better if you can use fresh chicken stock and the extra vegetables but if that is not possible, it will still be good with a gluten and wheat-free 'packet' stock.
Serves 6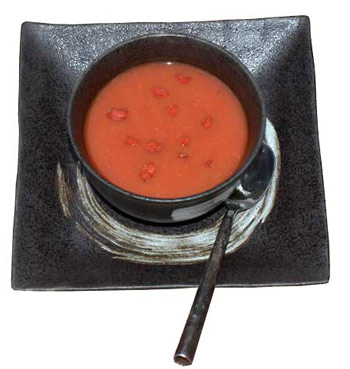 Ingredients
the remains of a roast chicken
1 medium onion, peeled and sliced

1 carrot, scrubbed and sliced

1 parsnip, scrubbed and sliced

few mushroom stalks

few sprigs parsley

½ tsp each sea salt and black peppercorns
1 medium butternut squash, peeled, pipped and diced

1 beetroot, scrubbed and quartered

1 large piece (approx 50g/2 oz) fresh ginger, peeled and sliced

sea salt and freshly ground black pepper

small handful of goji berries
Method
Put the remains of the chicken in a reasonable size pot.
Add the onions, carrot, parsnip, mushrooms stalks and parsley.

Bring to the boil, cover and simmer for 1–2 hours.
Put the squash, beetroot and ginger in a big pan.
Add the parsnip and carrot from the stock pot.

Strain the chicken stock, adding any bits of chicken to the vegetables.
Add approximately 1½ litres of the stock to the vegetables, bring to the boil, cover and simmer for another 30 minutes or until the vegetables are soft.

Purée in a food processor, adjust the seasoning to taste and serve sprinkled with a few goji berries.
Serves 6 – per portion
178Calories
27g Protein
3.5g Fat (1g Sat fat, 1.5g mono,0.7 g poly)
11g Carbohydrate of which 6g Sugar
2.5g Fibre, 131mg Sodium, 0.3g salt
52mg Calcium

Good Source: Vitamin B6, Niacin
We have over 800 delicious freefrom recipes on this site all of which are gluten free, most of which are dairy and lactose free and many of which are free of most other allergens. Please go to the following sections to try them out: