Michelle's Freefrom Green Pea and Watercress Soup
Corn, egg, gluten, lactose, milk, nut, peanut, sesame, soya & wheat free
Summer is the season for fresh green peas so you could make it with fresh peas or with frozen ones... The way that we have made it you retain a good deal of the texture of the skin of the pea. If you prefer it to be totally smooth you need to run the puréed soup through a sieve to remove the pea skins. The soup can be served hot or cold.
Serves 6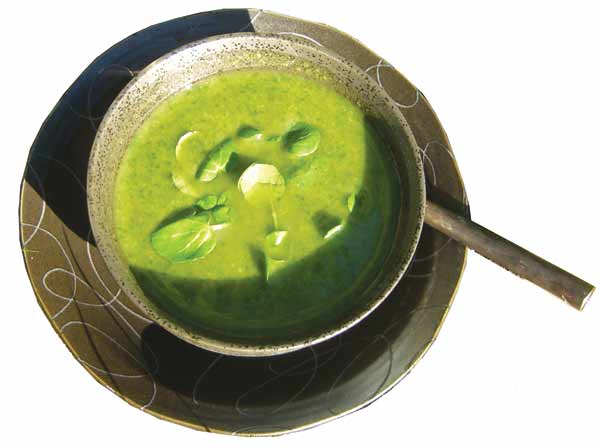 Ingredients
750g / 1lb 11 oz fresh or frozen petit pois

250g / 9 oz fresh watercress plus a few extra stalks for leaves to decorate

1.5 litres / 50fl oz vegetable stock

sea salt and freshly ground black pepper
Method
Put the peas in a large pan with all the watercress (stalks and all) apart from what you want to use for decoration.

Add the stock and bring slowly to the boil.
Simmer for only a few minutes as you want to peas to remaining fresh tasting.

Purée very thoroughly in a food processor or liquidiser and then rub through a sieve if you want it to be totally smooth.

Season to taste with sea salt and freshly ground black pepper. Chill thoroughly.

When ready to serve, stir well to re-amalgamate as the soup will have separated.

Pick off the smaller leaves from the remaining watercress, tearing in half any that are too big and scatter them on the top of the soup, if you are serving it in a tureen, or on each separate bowl if you are serving it in bowls..
You could also add a dollop of cream or yogurt to each bowl (assuming that you can tolerate it).
Serves 6 - per portion
128cals - 10g protein
2.5g total fat - 0.5g sat / 1g mono / 0.3g poly
16.5g carbohydrate of which 5g sugar
7g fibre - 147mg sodium / 0.37g salt
Good Source of: Vitamins B1, B6, C, folate & iron
We have over 800 delicious freefrom recipes on this site all of which are gluten free, most of which are dairy and lactose free and many of which are free of most other allergens. Please go to the following sections to try them out: