Michelle's Freefrom Mushroom and Coconut Milk Soup
Corn, egg, gluten, milk, nightshade, nut, peanut, sesame, soya & wheat free; can be lactose free
This is a really mushroomy soup. The lemon juice gives it a refreshing tang.
Serves 6
Ingredients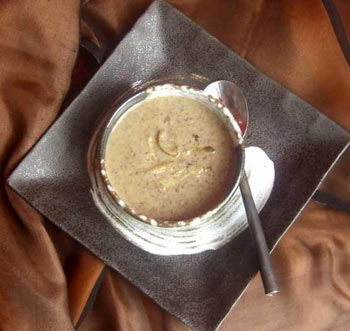 3 tbsp olive oil and 45g / 1½ oz goat butter – or 6 tbsp olive oil

6 small leeks, trimmed and sliced finely

350g / 12 oz chestnut mushrooms, chopped small

600ml / 20fl oz coconut milk

600ml / 20fl oz gluten/wheat-free vegetable stock

sea salt and freshly ground black pepper

juice 1–2 lemons

100g / 4 oz oyster or shitake mushrooms, sliced

extra 2 tbsps olive oil
Method
Heat the oil or oil and butter in a heavy pan and add the leeks.
Sautée gently for 2–3 minutes, then add the chopped mushrooms.
Continue to cook gently, uncovered for a further 10 minutes.

Add the coconut milk and stock.
Bring to the boil then reduce the heat and simmer for approximately 20 minutes.

Purée in a liquidiser or food processor then return to the pan and season to taste with the salt, pepper and lemon juice.

When ready to serve, heat the extra oil in a pan and briskly fry the sliced oyster or shitake mushrooms.

Reheat the soup and serve with the extra mushrooms scattered over the top.

Serves 6 – per portion
201cals – 7g protein
16g total fat – 5g sat / 10g mono / 1g poly
8g carbohydrate of which 6g sugar
2.5g fibre – 327mg sodium / 0.8g salt
18mg calcium
Good Source of: Vitamin B1, B6, folate & copper
We have over 800 delicious freefrom recipes on this site all of which are gluten free, most of which are dairy and lactose free and many of which are free of most other allergens. Please go to the following sections to try them out: