Michelle's Freefrom Cream of Swede (Rutabaga) Soup
Corn, egg, gluten, milk, nightshade, nut, peanut, sesame & wheat free; can be lactose & soya free
I always find swede a rather watery vegetable but the potato provides just enough starch to create a smooth purée. If you want to make it genuinely creamy, you can add 100ml / 3fl oz of goat, oat or soya cream although I did not really feel it was necessary. If you would like to avoid the onions, then just fry the grated swede for the topping.
Serves 6
Ingredients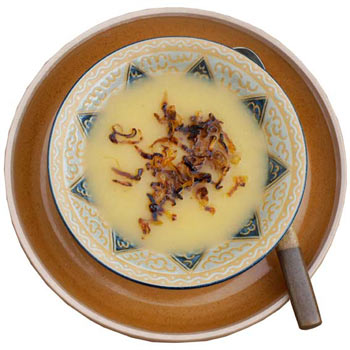 1 medium swede (rutabaga) – approximately 750g / 1lb 11oz

300g / 10 oz old potatoes, peeled and diced

1.3 litres / 44fl oz gluten/wheat-free vegetable or chicken stock

100ml / 3fl oz goat, soya or oat cream (optional)

sea salt and freshly ground black pepper

1 medium or 2 small onions

3 tbsp olive oil
Method
Peel the swede (rutabaga) and dice around 3/4 of it.
Put it into a pan with the potato and the stock, bring to the boil and simmer briskly, covered, for 45 minutes or until the swede (rutabega) is cooked.

Purée in a food processor and season to taste.

Meanwhile, peel and slice the onion very thinly and grate the remaining swede (rutabaga) very finely.

Heat the oil in a wide pan and very gently fry the onions and grated swede (rutabega) until they are dried and browned.
This is quite a slow job if they are to dry out properly without burning and can take up to 30 minutes with just occasional stirring.

Serve the soup in bowls with small handfuls of the browned swede and onion in the middle.
Serves 6 – per portion
111cals – 10g protein
2g total fat – 0.5g sat / 0g mono / 0.3g poly
16g carbohydrate of which 7g sugar
3g fibre – 455mg sodium / 1.1g salt
69mg calcium
Good Source of: Vitamin B1, B6 & folate

We have over 800 delicious freefrom recipes on this site all of which are gluten free, most of which are dairy and lactose free and many of which are free of most other allergens. Please go to the following sections to try them out: