Michelle's Freefrom Cream of Parsnip and Mushroom Soup
Corn, egg, gluten, lactose, milk, nightshade, nut, peanut, sesame & wheat free; can be soya free
This is rather an unusual, but flavoursome, combination and, although it is slightly grey, with a few sprouts or chopped parsley in the middle it looks almost as delicious as it tastes!
Serves 6
Ingredients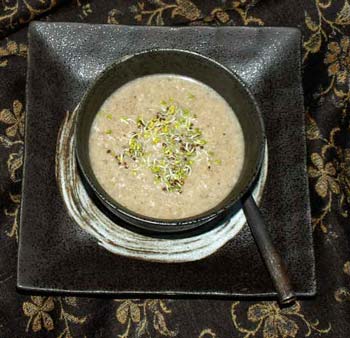 2 tbps olive oil

1 medium onions, peeled and roughly sliced

750g / 1lb10oz parsnips, scrubbed and sliced thickly

250g / 9 oz field mushrooms, sliced thickly

750ml / 3 cups soya or oat milk

750ml / 3 cups gluten and wheat-free vegetable stock

sea salt and freshly
ground black pepper

handful of alfalfa or broccoli sprouts or chopped fresh parsley
Method
Heat the oil in a heavy pan and add the onions.
Cook gently for a few minutes then add the parsnips and mushrooms.
Fry fairly gently for 5–10 minutes or until the miushrooms are softened and the parsnips very lightly tanned.

Add the milk and the stock, bring to the boil and simmer gently for 35–40 minutes or until the parsnips are quite soft.

Purée in a food processor and season to taste.

Reheat to serve and decorate with a little bunch of sprouts or some chopped parsley.

Serves 6
Per portion
159 Calories
6.5g Protein
8g Fat (1.2g Sat fat, 4g mono, 2g poly)
18g Carbohydrate of which 9g Sugar
6g Fibre, 393mg Sodium, 0.99g salt
73mg Calcium

Good Source: Vits B1,B2,Copper
We have over 800 delicious freefrom recipes on this site all of which are gluten free, most of which are dairy and lactose free and many of which are free of most other allergens. Please go to the following sections to try them out: