Michelle's Freefrom Pigs' Trotter Soup with Chickpeas
Corn, egg, gluten, lactose, milk, nightshade, nut, peanut, sesame, soya & wheat free
Wandering around a country fair last weekend while staying with my good friend, the Italian food writer Anna del Conte, we came across a butcher's stall selling, amongst other things, pigs' trotters. My only experience of trotters had been a rather unsatisfactory hunt for their very sparse offering of meat among the gristle – but Anna soon set me right. Soup with chickpeas is what she suggested so, on the basis of some back-of-the-envelope scribbled notes, here is pigs' trotter soup with chickpeas – deliciously unctuous, but without a trotter in sight!
You can buy all of Anna's books here on Amazon in the UK and here on Amazon in the US.
Serves 4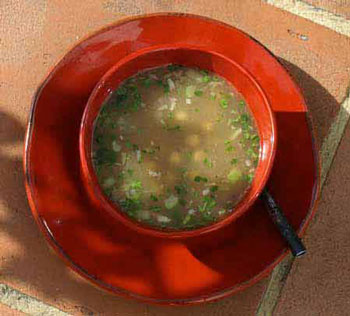 Ingredients
250g / 9oz chickpeas, soaked overnight

2 pigs trotters

1 large onion, sliced thickly

2 large bayleaves

2.5 litres / 68fl oz water

sea salt and freshly
ground black pepper

2 scant tbsp olive oil

1 stick celery, chopped very fine

3 cloves garlic, peeled and chopped very fine

handful parsley, chopped fine
Method
Drain the chickpeas and put into a largish pan with the trotters, onions, bay leaves and water.
Bring slowly to the boil and then cover and simmer gently for 2–3 hours.

Remove the lid and continue to simmer very gently for a further hour to reduce the liquid.

Allow to cool then remove the trotters and discard all the bone, gristle and skin. There will be very little meat left but that doesn't matter as it will already have delivered all its flavour into the soup.

Cool completely then chill in the fridge.
When cold, remove any excess fat from the top.
To serve, gently reheat the soup and season to taste with sea salt and freshly ground black pepper.

Meanwhile, heat the oil in a separate pan and very gently fry the celery and garlic with a pinch of salt until they are softening; take care that they do not burn.

Just before serving stir in the parsley and then stir the soffritto (the Italian term for finely chopped base vegetables sautéed in butter or oil) into the soup.
Serve at once.

Serves 4 - per portion
Calories 408Kcals
24g Protein
20g Fat (1g Sat fat, 5g mono, 2g poly)
35g Carbohydrate of which 4.5g Sugar
7.5g Fibre, 840mg Sodium, 2.1 g salt
181mg Calcium

Good Source: Vitamin B6, magnesium, Iron zinc, copper, calcium

We have over 800 delicious freefrom recipes on this site all of which are gluten free, most of which are dairy and lactose free and many of which are free of most other allergens. Please go to the following sections to try them out: