Michelle's Freefrom Celeriac and Leek Soup with Kara
Corn, egg, lactose, milk, nightshade, nut, peanut, sesame & wheat free; can be gluten & soya free
We used the new Kara coconut milk for this as it is rather lighter than more conventional coconut milk which can make the soup too rich and heavy. It worked really well but you could also use an oat or soya milk.
If you can get real cobnuts they are well worth the effort of shelling and then roasting them as they are seriously delicious. If you can't, use shelled hazelnuts lighted roast in the oven, in a dry frying pan or under the grill – make sure they do not burn. Twenty minutes in a low oven should be plenty.
Serves 4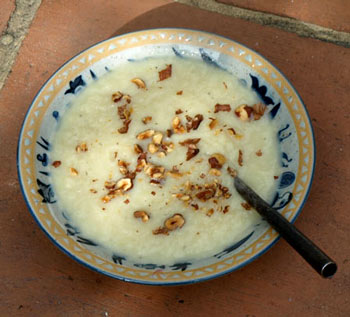 Ingredients
1 small head celeriac, trimmed and cut into large dice

2 medium leeks, trimmed and chopped

1 litre / 4½ cups Kara coconut milk or oat or soya milk

sea salt and freshly ground black pepper

2 handfuls roasted cobnuts of hazelnuts, chopped or 2 handfuls roasted pumpkin seeds, chopped
Method
Put the celeriac into a pan with the leeks and coconut milk.
Bring slowly to the boil and simmer, with the lid on, for 15-20 minutes or until the celeriac is quite soft.
Purée thoroughly in a food processor and, if you would like the soup really smooth, press it through a sieve.

Chop the roasted nuts or pumpkin seeds either by hand or in a food processor. If you use a food processor make sure that you do not reduce them to dust.

Reheat the soup and season to taste with sea salt and freshly ground black pepper and then serve hot, sprinkled with the nuts or seeds.
We have over 800 delicious freefrom recipes on this site all of which are gluten free, most of which are dairy and lactose free and many of which are free of most other allergens. Please go to the following sections to try them out: