Michelle's Freefrom Broccoli and Celeriac Soup with Blue Cheese
Corn, egg, gluten, milk, nightshade, nut, peanut, sesame & wheat free; can be lactose & soya free
This is the classic broccoli and Stilton soup – with a freefrom twist! If you are only worried about wheat/gluten, then you can go ahead and use Stilton; if you are cow's milk intolerant then you can use the Roquefort; if you are lactose intolerant, then you can either use a soya cheese or just go with the toasted seeds. However, if you use the Munchy Seeds, be aware that they do include soya!

Serves 6
Ingredients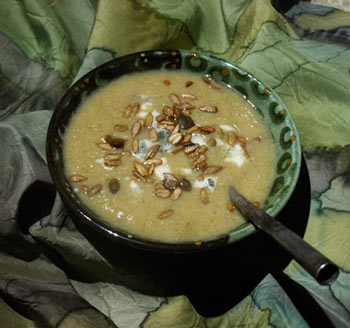 500g / 14 oz broccoli including stems

300g / 10 oz trimmed celeriac, diced

1 large leek, trimmed

1 litre/ 1¾ pints gluten/wheat free vegetable stock

500ml / 18fl oz soya, oat, coconut or whatever milk you can drink

4 bayleaves

sea salt and freshly ground black pepper

100g / 4 oz Roquefort, Stilton or soya cheese

toasted sunflower seeds or 'Munchy seeds'
Method
Roughly chop the broccoli and put in large pot with the celeriac, leek, stock, milk and bay leaves, bring to the boil and simmer for 30 minutes.
Don't worry if it looks really horrible when it has boiled as the 'milk' will probably separate – it will all sort itself out in the food processor!

Remove from the heat, remove the bay leaves, and puree.

Season to taste with sea salt and freshly ground black pepper.

To serves, reheat then sprinkle each bowl with some crumbled cheese and some seeds.

We have over 800 delicious freefrom recipes on this site all of which are gluten free, most of which are dairy and lactose free and many of which are free of most other allergens. Please go to the following sections to try them out: