Michelle's Freefrom Nettle Soup
Corn, egg, gluten, nut, peanut, sesame & wheat free; can be lactose, milk & soya free
A classic, simple nettle soup which allows the delicate flavour of the nettles to come through. You can serve it hot or cold.
Serves 6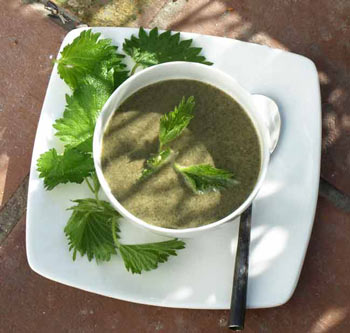 Ingredients
250g / 9 oz young nettle tops and leaves, no stalks (approx 350g / 12 oz whole nettles) – plus a few extra leaves for decoration

1 tbsp coconut oil or butter or 2 tbsp olive oil

1 medium onion, roughly chopped

200g / 7 oz old potatoes, scrubbed and roughly cut

500ml / 17fl oz unsweetened soya or oat milk

500ml / 17fl oz gluten and wheat free vegetable stock

sea salt and freshly ground black pepper
Method
Remember to wear rubber gloves.
Wash the nettles thoroughly then discard the stalks.
Heat the oils or butter in a deep pan and gently cook the onion for a few minutes then add the nettle leaves.
Cover the pan and sweat very gently for 15 minutes.

Add the potatoes, 'milk' and stock, bring to the boil, cover and simmer for 30–40 minutes.
Remove and puree in a food processor.

Season to taste with sea salt and freshly ground black pepper and serve, hot or chilled, decorate with the extra nettle leaves.
We have over 800 delicious freefrom recipes on this site all of which are gluten free, most of which are dairy and lactose free and many of which are free of most other allergens. Please go to the following sections to try them out: