Michelle's Freefrom Mushroom Soup with (or without) Smoked Mackerel
Corn, egg, gluten, lactose, milk, nut, peanut, sesame, soya & wheat free
This is a really nice mushroom soup just on its own, given just that little edge by the anchovy – but becomes a full meal if you add the mackerel.
Serves 6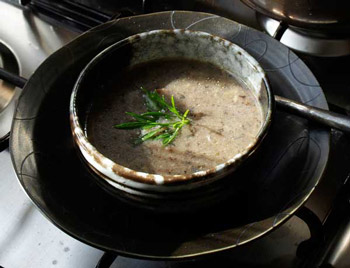 Ingredients
1 heaped tbsp coconut oil or 2 tbps olive oil

3 medium leeks, sliced very finely

4 anchovies, chopped small

350g open cap mushrooms

1 large baking potato, scrubbed and sliced thickly

1.5 litres gluten and wheat free vegetable stock

1 level tbsp coconut oil or 1 tbsp olive oil

sea salt and freshly ground black pepper

1 fillet peppered smoked mackerel (optional)
Method
Heat the oil in a deep pan and gently fry the leeks and anchovies for 5 – 6 minutes or until the anchovies are starting to disintegrate.

Add roughly ⅔ of the mushrooms, chopped fairly small and continue to cook gently for a further 10-15 minutes until the mushrooms have given all their juice.

Add the potato and the stock, bring to the boil and simmer gently for a further 15–20 minutes or until the potato is cooked.
Purée in a food processor.

You could stop at this point, season the soup to taste and serve.

If you want it more mushroomy, heat the remaining oil in a shallow pan, halve and slice the remaining mushrooms thinly and fry briskly until they give their juices then add to the soup.

If you like the idea of the smoked mackerel, flake the fillet into small pieces with your hand and add it, with the mushrooms, to the soup.
This will make the soup a good deal more substantial (could easily be eaten as a meal) and, if you are using peppered mackerel, you may want to hold back on the pepper in your seasoning.

We have over 800 delicious freefrom recipes on this site all of which are gluten free, most of which are dairy and lactose free and many of which are free of most other allergens. Please go to the following sections to try them out: