Michelle's Freefrom Green Pea and Wasabi Soup
Corn, egg, gluten, lactose, milk, nightshade, nut, peanut, sesame & wheat free; can be soya free
A very simple soup but rather delicate in flavour – the wasabi comes through just as you have stopped expecting it! – and a fabulous colour.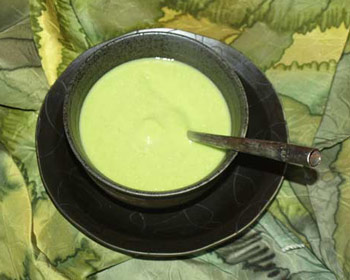 Serves 4
Ingredients
700g of frozen petit pois

1 large leek, sliced thickly

500ml soya or oat milk

500ml gluten and wheat free vegetable stock

3 tsp wasabi powder

sea salt and freshly ground black pepper
Method
Put the green peas and leek in a pan with the soya or oat milk and stock and bring to the boil.
Simmer gently for 5 minutes then purée in a food processor.

Rub the soup through a coarse sieve– this is quite hard work but worth it if you want a smooth soup.

Mix the wasabi powder into a paste with a little water, then add some spoonsful of soup and mix till smooth.
Mix the wasabi paste and soup back into the main bowl and soup and season to taste if you need to.
Serve either hot or chilled but if you serve it chilled you may need to thin it with a little extra milk.

We have over 800 delicious freefrom recipes on this site all of which are gluten free, most of which are dairy and lactose free and many of which are free of most other allergens. Please go to the following sections to try them out: