Michelle's Freefrom Smoked Fish Paté
Corn, egg, gluten, nightshade, nut, peanut, sesame & wheat free; can be lactose, milk or soya free
Easy, filling and freefrom. Serve with gluten-free toast or crackers or oatcakes.
Serves 6
Ingredients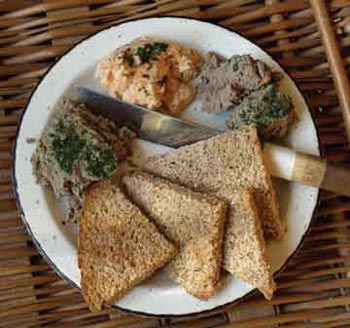 200g / 7 oz smoked salmon, trout, eel, mackerel or any smoked fish of your choice

100g / 3½ oz soft butter or dairy-free spread

100g / 3½ oz plain, soft goat, sheep cheese or soya 'cream cheese'

2 slices of whatever wholemeal-type bread you can eat
or 200g / 7 oz drained and puréed chickpeas or canellini beans

sea salt and freshly ground black pepper

juice of 2–3 lemons
Method
Remove the skin and any bones from the fish and flake into a mixing bowl with the butter (or spread) and 'cheese'.
Beat with a wooden spoon or an electric whisk until they are well amalgamated.
If you want a very smooth purée you could beat them in a food processor.

Crumb the bread and beat it, or the puréed beans, into the paté.
Season to taste with salt, freshly ground pepper and the lemon juice and serve.
Serves 6 – per portion
250cals – 13g protein
20g total fat – 12g sat / 5g mono / 1g poly
5g carbohydrate of which 0.5g sugar
0.7g fibre – 891mg sodium / 2.2g salt
44mg calcium
Good Source of: Vitamin A, B12
We have over 800 delicious freefrom recipes on this site all of which are gluten free, most of which are dairy and lactose free and many of which are free of most other allergens. Please go to the following sections to try them out: