Freefrom Polenta Coated Vegetables
Egg, gluten, milk, nut, peanut, sesame, soya & wheat free
Serves 4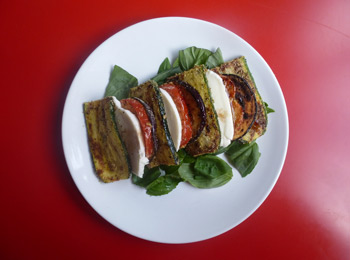 Ingredients
5 heaped tbsp polenta
1 tsp thyme
1 tsp sage
1 tsp oregano
salt and pepper
1 small aubergine
2 large tomatoes
1 courgette
1 large ball buffallo Mozzarella
oil to shallow fry
basil leaves to serve
olive oil and balsamic vinegar (optional)
Method
Mix the polenta, herbs, salt and pepper together.
Cut the aubergine into thin slices.
Cut the tomato into slightly thicker slices and then blot on some kitchen towel.
Cut the courgette into 2 or 3 and then slice length ways.
Heat a good layer of oil in the frying pan.
Coat each slice in the polenta mixture and fry on both sides in batches.
The aubergine will need 3-4 minutes per side, depending on thickness.
The courgette will need 2-3 minutes per side, depending on thickness.
The tomato will only need about 3 in total.
If possible use more than one pan to reduce your cooking time.
Cover cooked slices to keep them warm.
When all the slices are cooked, layer them on plates with slices of Mozzarella and basil leaves.
Don't worry about numbers of slices, just divide what you have between the plates.
Drizzle with good olive oil and balsamic vinegar if liked.
We have over 800 delicious freefrom recipes on this site all of which are gluten free, most of which are dairy and lactose free and many of which are free of most other allergens. Please go to the following sections to try them out: