Michelle's Freefrom Pine Nut, Hemp Seed and Watercress paté
Corn, egg, gluten, lactose, milk, nightshade, nut, peanut, sesame, soya & wheat free
Although no one would dispute the fact that hemp products are wonderfully good for you, there is still a widespread perception that they taste horrible. But although a naked hemp seed, in its shell, is quite bitter, shelled hemp seeds are delicious.

Yorkshire Hemp import organic hemp seeds from Germany, shell them and add them to an amazing number of products: muesli, pasta (with wheat), bread-baking mixtures, a selection of teas, fruit bars, crunchy marzipan bars, honey drops - and chocolate... They also sell the seeds both in and out of their shells, grind them and sell them as flour, crush them and make them into oil and into an excellent savoury sauce - a very good substitute for soya sauce for those who cannot tolerate soya.

And as if that was not enough, Yorkshire Hemp have got together with a specialist Austrian natural cosmetics manufacturer to create hemp essential oil, massage oils, baby oils, face creams, lip balm, shampoo, body scrub and soaps...

To find out more about the Yorkshire Hemp products call them on 01924 375475 or check out www.yorkshirehemp.com
Meanwhile... So inspired are we by Yorkshire Hemp's shelled hemp seeds that we combined them with pine nuts to make a nut-free 'nutty' paté. For those who would like to experiment with other varieties of seedy/nutty mixtures - the seeds and nuts alone make a very thick and claggy mixture which, in another life, one might have lightened with whipped cream. However puréed soft vegetables, like the aubergines, do the job very well.
Serves 6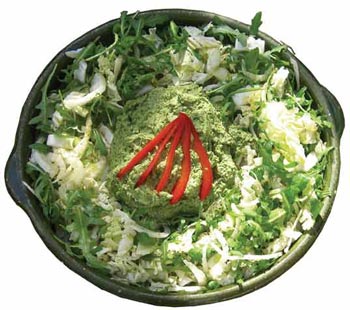 Ingredients
1 medium (250g / 9oz) aubergine (eggplant) or a similar weight of courgette (zucchini)
200g / 7 oz pine nuts
100g shelled hemp seeds

1 bunch watercress

100g / 3½ oz baby spinach leaves

1 tbsp olive oil

juice ½-1 lemon
sea salt and freshly ground black pepper

Leaf Salad - optional

1 small head of Chinese leaves

2 small heads fennel

100g / 3 1/2oz fresh rocket

sea salt and freshly ground black pepper

juice 1 lemon

4 tbsp olive oil
Method
Cut the aubergine (eggplant) or courgette (zucchini) into large chunks and steam for 5-10 minutes or until it is totally soft.
Purée in a food processor and set aside.

Put the pine nuts and hemp seeds in the food processor.

Remove the thick stems from the watercress and add to the seeds along with the spinach leaves and olive oil.

Purée for a couple of minutes then add the puréed aubergine (eggplant) or courgette (zucchini) to lighten the mixture.

Season to taste with lemon juice, salt and pepper.

You can serve the mixture as a paté with crudités or whatever crackers or toast you can eat.

Alternatively, serve with a salad.
To make the salad

Slice the Chinese leaves and fennel heads very finely and mix with the rocket.
Spread out in a large dish, season with sea salt and freshly ground black pepper and dribble with the lemon juice and oil.
Pile the paté in the middle and decorate with fresh leaves or slithers of red (sweet) pepper.
Serves 6 - per portion
533cals - 13g protein
52g total fat - 6g sat / 21g mono / 23g poly
4g carbohydrate of which 3g sugar
5g fibre - 48mg sodium / 0.1g salt
315mg calcium
We have over 800 delicious freefrom recipes on this site all of which are gluten free, most of which are dairy and lactose free and many of which are free of most other allergens. Please go to the following sections to try them out: