Hearty Freefrom Spiced Squash Soup
Corn, egg, gluten, lactose, milk, nightshade, nut, peanut, sesame, soya & wheat free
Serves 2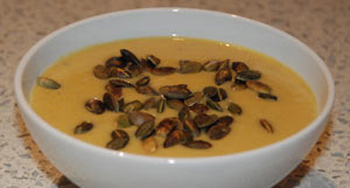 Ingredients
1 small butternut squash
1 tbsp oil
1 tsp ground cumin
½ tsp chilli flakes
400ml (1 can) coconut milk
140g dried red lentils
1 chicken/vegetable stock cube (check ingredients)
generous handful of pumpkin seeds (optional)
cooked chicken pieces (optional)
salt and pepper
Method

Preheat the oven to 180c. Cut the squash in half and roast for 30-45 minutes, until soft.
Toast the pumpkin seeds in a dry saucepan until starting to brown. Tip into a bowl.
Heat the oil in the same saucepan and toast the cumin and chilli flakes for a minute or two.
Add the can of coconut milk. Refill the can with water and add to the saucepan.
Add the lentils and crumble in the stock cube.
Bring to the boil then turn the heat down and simmer until the lentils are cooked.
Scoop the flesh out of the squash and add to the pan. Warm through.
Season with salt and pepper.
Whizz in a food proccessor or with a handheld blender until smooth.
Add some cooked chicken pieces if you like.
Serve topped with the pumpkin seeds.
We have over 800 delicious freefrom recipes on this site all of which are gluten free, most of which are dairy and lactose free and many of which are free of most other allergens. Please go to the following sections to try them out: