Michelle's FreeFrom Classic Spaghetti Carbonara

Gluten, lactose, nightshade, nut, and wheat free; can be corn, dairy and soya free (depending on the pasta you use)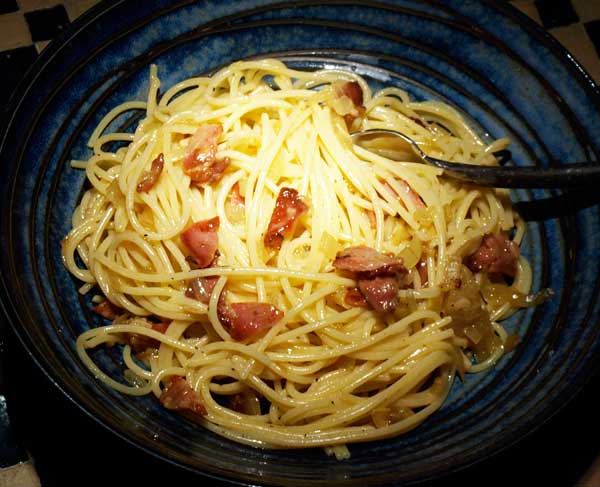 For those on freefrom diets, most pasta seems to be a 'no-no' but for a classic, and delicious, carbonara, all you need to do is substitute gluten-free spaghetti and it is already dairy and nightshade-free. Those on dairy-free diets will have to sacrifice the Parmesan, but if you are lactose intolerant rather than dairy allergic, you will even be able to have the parmesan! See the Dr Macdonald's article on cheese on a low-lactose diet .
6 tbsp olive oil
3 medium–large onions, peeled and finely chopped
6 cloves garlic, peeled and sliced
pinch salt
18–20 rashers of fatty back bacon, cutup small
750g / 1lb 10oz gluten and wheat-free spaghetti
6 medium eggs
freshly ground black pepper
freshly grated Parmesan (optional)
Heat 4 tablespoons of the oil in a wide pan and add the chopped onion and garlic and a pinch of salt to draw out the liquid and stop them burning.
Fry gently for 5–10 minutes or until they are soft.
Ina separate pan heat the remains of the oil and fry the bacon briskly until it is crisp.
Meanwhile, cook the spaghetti in lots of fast boiling water with a dash of oil according to the instructions on the pack.
Break the eggs into a bowl and beat.
When the spaghetti is cooked, drain and return to the pan. Mix in the onion and bacon thoroughly then pour in the egg and mix well in so that it coats the pasta.
Serve at once with grated Parmesan, if you can eat it.
Serves 6 – per portion
Calories 857 Kcals
36g Protein
37g Fat (10g Sat fat, 18g mono, 5g poly)
100g Carbohydrate of which 10g Sugar
5g Fibre, 1168g Sodium, 2.9g salt
95mg Calcium

Good Source: Vitamin B1, B12, B6, Iron
Back to more freefrom pasta/pizza recipes