Michelle's FreeFrom Pasta & Curly Kale Salad with Pumpkin Seeds
Dairy, corn, nightshade & egg free; can be wheat & gluten free
Curly kale is delicious but you do need to be very careful to remove all its stems which are very tough. We tried out the Blossom Healthrack Mlinotest spelt pasta imported from Slovenia which was really excellent - nutty, tasty, and with a lovely texture. Although spelt is not gluten free many people who cannot tolerate 'normal' 21st century wheat flours can manage spelt without problems.
We also used the Munchy Seeds Just Pumpkin to which we are particularly addicted. (They are roasted with salt and soya). However, Munchy Seeds have a range of other seed combinations including Omega Seed Mix - linseed, flax, hemp and rape added to their usual sunflower, pumpkin, and sesame seeds. For more information or to buy the seeds call 01728 833004 or check out www.munchyseeds.co.uk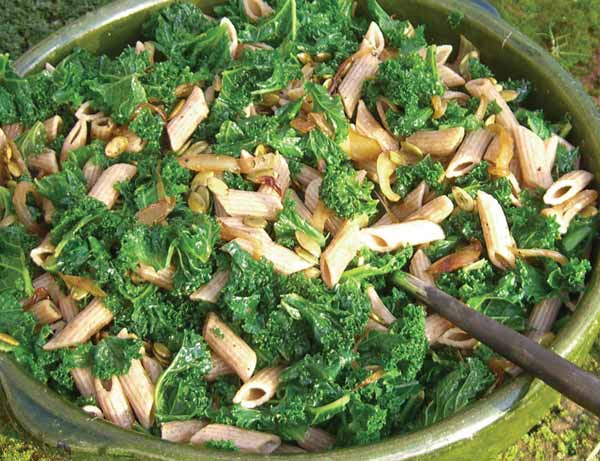 6 tbsp olive oil
2 large onions, sliced, or (for onion free) 30 small button mushrooms, halved or sliced
300g / 11oz gluten or wheat-free penne (we used the Blossom Health Rack spelt penne)
300g / 11oz curly kale, trimmed of its stalks
100g / 3 1/2oz pumpkin or mixed seeds (we used the Munchy Seeds Just Pumpkin)
sea salt and freshly ground black pepper
juice 1/2-1 lemon
Heat 3 tbsp of the oil in a wide pan and add the onions or the mushrooms. Cook the onions gently for 15-20 minutes or until they are quite soft; cook the mushrooms more briskly for 3-4 minutes or until they start to give their juice.
Meanwhile, cook the pasta in plenty of lightly salted boiling water according to the instructions on the pack. Drain and set aside.
Steam the kale for a couple of minutes only. It needs to be lightly cooked but still retain a little crunch and its greenness. In a large serving dish, amalgamate the onions or mushrooms with the pasta, then add the kale and seeds.
Add the rest of the oil and season to taste with sea salt, freshly ground black pepper and the lemon juice.
Can be served warm or at room temperature as a salad or a vegetable.

Serves 6 - per portion
400cals - 12g protein
20g total fat - 3g sat / 10g mono / 5g poly
44g carbohydrate of which 3.5g sugar
4.5g fibre - 31mg sodium / 0.07g salt
Good Source of: Vitamin B6, C, folate, magnesium & zinc
Back to more freefrom pasta/pizza recipes