Michelle's FreeFrom Mange Touts (Snow Peas) with Fusilli with Wasabe and Watercress Sauce
Corn, egg, gluten, nightshade, nut, and wheat free; can be dairy or soya free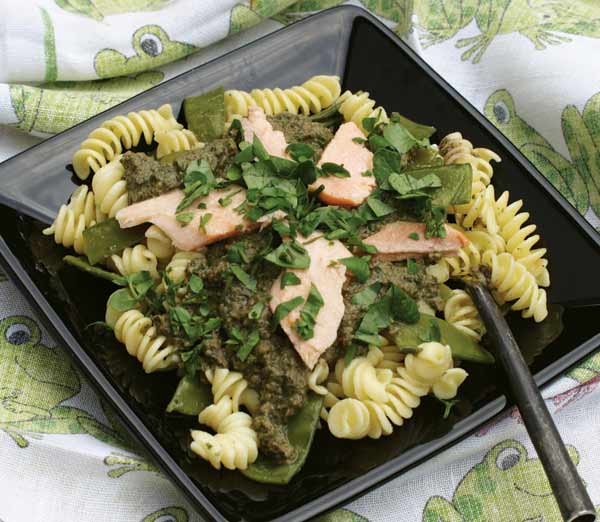 Wasabe is that green, innocent-looking-but-oh-so-hot horseradish dipping sauce that accompanies most Japanese dishes. You can buy it in tubes in most good delicatessens. If you cannot find it anywhere you could substitute about the same quantity of grated horseradish. The dish works equally well hot or cold.
4 tbsp olive oil
1 large or 2 medium onions, finely chopped
2 large bunches watercress
150g / 5oz white button mushrooms
500g / 1lb 2oz gluten-free fusilli
400g / 14oz trimmed mange touts (snow peas)
1–2 heaped tbsp wasabe sauce
2 tbsp sheep, goat or soya plain yogurt or cream
sea salt
3 fillets of smoked trout or hot smoked salmon
Heat the oil in a heavy pan and add the onions. Cook gently for 2–3 minutes while you chop the watercress, including the stalks but reserving a few leaves to chop to decorate the dish. Add the watercress to the onions, cover the pan and sweat for 8–10 minutes or until both vegetables are soft. Roughly chop the mushrooms.
Cook the fusilli in plenty of boiling water according to the instructions on the pack. When just al dente, drain and return to the pan with a little extra olive oil to stop it sticking.
Halve the mange touts and steam them for 3–4 minutes only or until they are just soft. Remove them from the heat and when the pasta is cooked, mix them in.
When the onions/watercress are soft, purée them in a food processor with the mushrooms and yogurt or cream, adding the wasabe or horseradish and salt to taste. Be aware that the pasta does absorb a lot of the fireiness so make sure that you add enough wasabe.
If the sauce is too thick, thin it with a little boiling water.
Spoon the pasta and mange tout mixture onto a dish or individual plates. Spoon the sauce over the top.
Break up the fillet of trout or salmon and lay those over the sauce. Chop over the remaining watercress leave and serve.
If you wish to make the dish in advance, it is equally good at room temperature, but be sure that you take it out of the fridge in advance so that it is not chilled.

Serves 6 – per portion
746cals – 61g protein
38g total fat – 10g sat / 13.5g mono / 6.5g poly
40g carbohydrate of which 7g sugar
4g fibre – 469mg sodium / 1.1g salt
100mg calcium
Good Source of: Vitamin B1,B2, B6, niacin, zinc,
magnesium, potassium & folic acid
Back to more freefrom pasta/pizza recipes