Creamy Green Pasta
Corn, egg, gluten, lactose, milk, nut, peanut, sesame, soya & wheat free
This quick, fresh pasta dish is full of tasty green ingredients. It can also be eaten cold as a salad.
Serves 4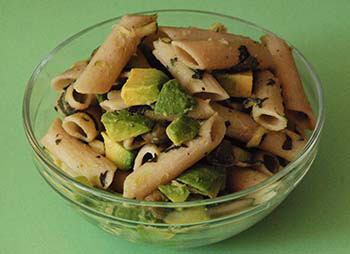 Ingredients
4 portions of gluten free pasta
6 bacon rashers
1 courgette
1 avocado
6 spring onions
150g dairy free cream cheese
handful of fresh herbs - basil, parsley, whatever you like
if you don't have fresh herbs you could use 1 tsp of mixed dried herbs
2 tbsp capers
salt and pepper
Method
Cook the pasta in plenty of boiling water according to pack.
Grill the bacon until crispy round the edges and then chop into pieces.
Grate the courgette and chop the avocado and spring oinions.
Place the cheese in a bowl and add water from the cooking pasta a spoon at a time until you have a nice smooth consistancy.
Finely chop the herbs and stir into the cheese.
Once the pasta is cooked and drained, stir the herby cream cheese thoroughly through.
Then simply mix in the bacon, courgette, avocado, spring onions and capers.
Season well with salt and pepper and serve.
We have over 800 delicious freefrom recipes on this site all of which are gluten free, most of which are dairy and lactose free and many of which are free of most other allergens. Please go to the following sections to try them out: