Edamame Spaghetti with Creamy Coconut Sauce and Sesame Salmon
Corn, egg, gluten, lactose, milk, nut, peanut & wheat free
Serves 2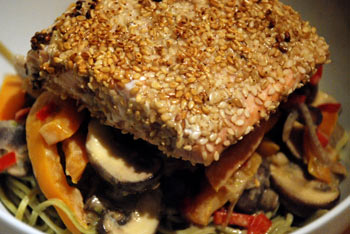 Ingredients
2 tbsp oil
1 red chilli, finely chopped
1 clove of garlic, crushed
3 cm ginger, grated
1 onion, halved and sliced
1 pepper, sliced
1 punnet of mushrooms, washed and sliced
½ can coconut milk
1 tbsp fish sauce
1 tbsp wheat free tamari soya sauce
2 portions of edamame spaghetti
2 salmon fillets
2 tbsp of sesame seeds
Method
Make sure all the ingredients are ready before you begin to heat 1 tbsp oil in a pan over a medium heat.
Add the chilli, garlic and ginger and cook for a minute or two.
Keep stirring and add the onion, pepper and mushrooms.
When they are beginning to soften, add the coconut milk.
Stir in the fish sauce and tamari and simmer while you cook the spaghetti.
Cook the spaghetti following the instructions on the pack.
Spread the sesame seeds out on a plate.
Press the salmon into sesame seeds on all sides.
Heat 1 tbsp oil in a small pan.
Gently fry both sides of the fish until just cooked through.
Serve immediately.
We have over 800 delicious freefrom recipes on this site all of which are gluten free, most of which are dairy and lactose free and many of which are free of most other allergens. Please go to the following sections to try them out: