Creamy Spinach Pasta
Corn, gluten, lactose, milk, nut, peanut, sesame & wheat free; can be soya free
Some crunchy toasted pine nuts would be a tasty addition to this simple dish.
Serves 4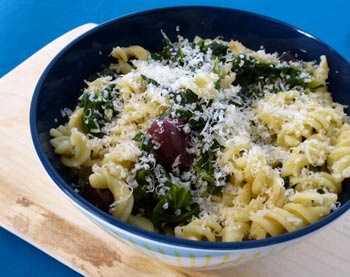 Ingredients
300g gluten free pasta
1 tbsp coconut or olive oil
1 onion, finely chopped
400g spinach
6 tbsp oat / soya / coconut cream
4 heaped tbsp pitted black olives
zest of 1 lemon
salt and freshly ground black pepper
optional: parmesan cheese to serve
Method
Cook the pasta according to the instructions on the pack.
Heat the oil in a large pan and gently soften the onion.
Wash the spinach, remove large stalks and chop or tear into wide strips.
Add to the pan and cook until wilted.
Drain the onion and spinach mix and return to the pan.
Add the cream and warm gently.
Drain the cooked pasta.
Add the spinach along with the olives, lemon zest, salt and pepper.
Serve immediately topped with grated parmesan, if liked.
We have over 800 delicious freefrom recipes on this site all of which are gluten free, most of which are dairy and lactose free and many of which are free of most other allergens. Please go to the following sections to try them out: