Coconut Flour Pizza Base
Corn, gluten, lactose, milk, nightshade, nut, peanut, sesame, soya & wheat free
I have been experimenting with Lucy Bee's fair trade organic raw coconut flour. The coconut flour doesn't have a strong flavour and so is fine for recipes that you don't want to taste of coconut. This pizza base is not like a traditional wheat one, but it holds together well.
Makes 1 base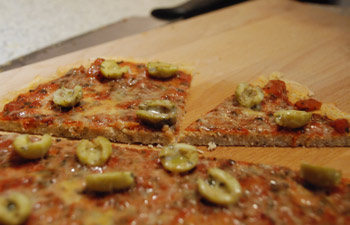 Ingredients
60g coconut flour
½ tsp gluten free baking powder
1 tsp dried mixed herbs
1 tbsp psyllium husk powder
pinch of salt
freshly ground black pepper
3 tbsp olive oil
1 egg
100ml hot water
Method
Preheat the oven to 180°C / Gas 4 / 350°F.
Mix the flour, baking powder, herbs, psyllium husk, salt and pepper together in a bowl.
Stir in the oil and eggs until the mix looks like breadcrumbs.
Add the hot water a little at a time until you have a dough - the coconut flour takes a little time to absorb the moisture so don't rush this bit.
Place the ball of dough onto a sheet of baking paper, dusted with a little coconut flour.
Dust the top of the dough with a little flour and place another sheet of baking paper on top.
Roll out with a rolling pin until it is about ¾cm thick.
Remove the top sheet of paper and neaten up the edges with a knife.
Bake for 10 minutes, turn over gently and bake for another 10 minutes.
Cover with the topping of your choice and bake for about 12-15 minutes.
We have over 800 delicious freefrom recipes on this site all of which are gluten free, most of which are dairy and lactose free and many of which are free of most other allergens. Please go to the following sections to try them out: