Open Aubergine Lasagne
Dairy, egg, gluten, nut, soya and wheat free
Serves 2
Lighter and quicker than actual lasagne, this would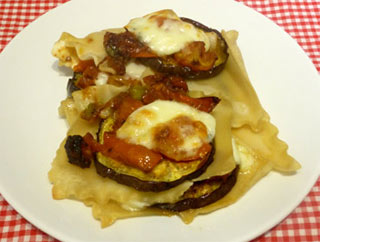 work as a starter or light lunch with salad. It is easy
to add any other elements you like to the stack such
as roasted peppers, fresh basil, olives, mushrooms...
Ingredients
3 tbsp olive oil
1 medium aubergine
1 red onion, finely chopped
4 tomatoes, chopped into chunks
4 sun-dried tomatoes in oil
pinch of dried chilli flakes
dash of balsamic vinegar
2 sheets of gluten-free lasagne
(I used 4 as the lasagne sheets were slim)
1 x 125g buffallo mozarella, drained
Fry the onion gently in a tablespoon of the oil until softened.
Add the chilli flakes and fry for a minute.
Add the tomatoes, sun dried tomatoes and balsamic vinegar. Leave to cook down over a low heat.
Wash the aubergine and slice into 12 pieces. Place on a baking tray and brush both sides with oil.
Grill for 4-5 minutes on each side until soft and lightly browned.
Cook the lasagne sheets in plenty of boiling water until al dente and then drain well.
Preheat the oven to 200oC/400oF/Gas Mark 6 and line a baking tray with baking parchment.
Cut the mozarella into 8 slices.
Cut a sheet of lasagne in half (or 2 sheets if they are long and thin) and place on the baking sheet.
Brush both with oil and then layer with aubergine, tomatoes and mozarella.
Place the second sheet of lasagne at an angle to the first, brush with oil and then repeat the other layers.
Bake in the oven for about 15 minutes until the cheese is melted and browned.

Back to more freefrom pasta/pizza recipes