Michelle's FreeFrom gram flour and sweet potato pizza
Corn, dairy, egg, gluten, lactose, nightshade, nut, soy and wheat free (but obviously not egg free if you use an egg in the topping!)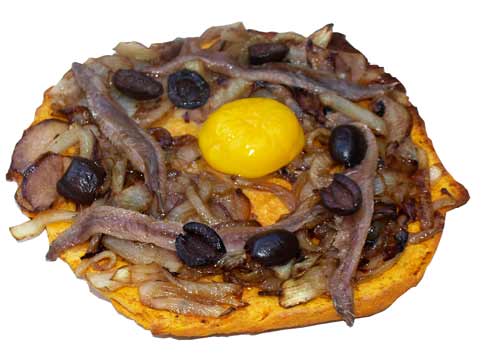 Serves 2–4, depending age and appetite!
Following in the steps of Micki Rose who is now devising totally grain-free recipes for her Truly Gluten Free site this is a totally grain free pizza base. It tastes a bit cakey – but very nice!
You can use any of your normal toppings – our is caramelised onions with anchovies and an egg on top!
4 medium sized sweet potatoes
150g /6oz gram flour
120ml/4floz water
Heat the oven to 200C/400F/Gs mark 6.
Peel the sweet potatoes and steam then until very soft. Remove them from the pan and puree them in a food processor with the gram flour and the water – you should have a very thick batter.
Oil a large piece of aluminium foil and spread the batter out in a big round or in two smaller ones – it should be approximately 1cm/1/2 inch thick. It will be difficult to spread on the oiled foil but if you do not oil the foil you will never get it off!
Bake it for 15 minutes then remove from the oven and turn onto a second piece of oiled foil, carefully remove the first piece from the bottom. Return to the over for a further 15 minutes to cook the bottom.
Remove fromthe oven and cover with your usual topping. Return to the oven for 5 –10 minutes, depending on the topping.
Take out of the oven and cover with your chosen topping then return to the oven for a further 5–10 minutes depending on your topping.
Per portion:
583 Calories
20g Protein
5.3g Fat ( 0.8g Sat fat, 0.8g mono, 2.4g poly)
122g Carbohydrate of which 25g Sugar
23g Fibre, 189mg Sodium, 0.48g salt
213mg Calcium
Back to more freefrom pasta/pizza recipes