FreeFrom fusilli with chard and leeks
Dairy, egg, gluten, nightshade, nut, soya and wheat free; can be dairy and lactose free

A very simple but delicious pasta dish. I cooked it with my good friend the wonderful Italian cookery writer, Anna del Conte, and it got her seal of approval – so it must be good!

You can buy all of Anna's books here on Amazon in the UK and here on Amazon in the US.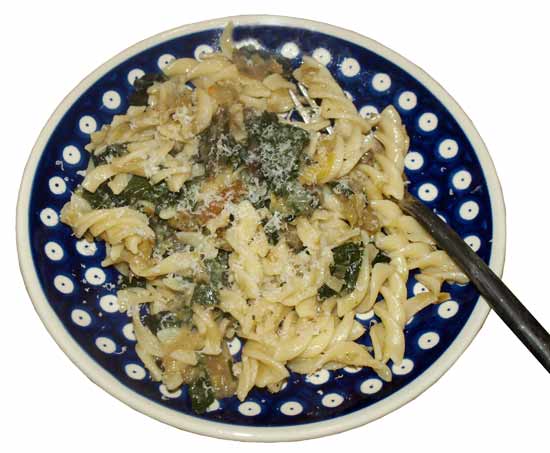 Serves 4
6 tbsp olive oil
3 medium to large leeks, trimmed and finely sliced
250g/9oz fresh, young chard
300ml/10floz gluten and wheat free vegetable stock
300g/12oz gluten/wheat free fusilli (we used the Asda organic corn and rice fusilli but you can use whichever you choose)
eea salt and freshly ground black pepper
freshly grated Parmesan (optional)
Heat 4tbps of the oil in a large flat pan and add the leeks. Stir around and sweat very gently, without burning, for 15–20 minutes or until they are quite soft.
Meanwhile, wash the chard and remove the stalks. Chop these roughly then chop th leaves quite roughly but keep apart.
Add the chard stalks to the leek and cook for another 3–4 minutes, then add the leave and continue to cook gently for a further 7–8 minutes or until the leaves are cooked. Season to taste.
Meanwhile season a litre of water generously with salt and bring it to the boil. Add the pasta and cooked according to the instructions on the pack (depending on the gf pasta, cooking times will differ quite dramatically).
Drain un-thoroughly (there should still be some water clinging to the pasta) and mix it fairly thoroughly into the chard and leek. Lightly mix in the remaining 2 tbsp of olive oil.
Serve at once with grated fresh Parmesan (if you can tolerate it) and plenty of freshly ground black pepper.
Back to more freefrom pasta/pizza recipes