Gnocchi
Wheat, gluten, corn, soya, dairy & nut free
Serves 2
I have been considering having a go at making gnocchi for a while but was put off by the thought that it would turn out to be time consuming and fiddly. I am pleased to report that it really is not much effort, especially if you have some left over baked potatoes or mash. During my 'gnocchi research' I found that there are a lot of regional variations in Italy including some made with buckwheat flour, so I went with that.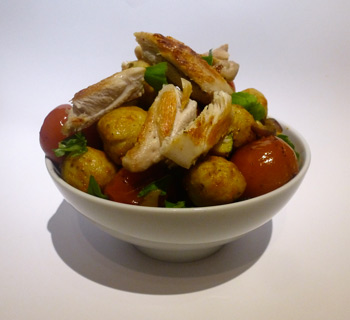 Ingredients
350g (2-3 medium) floury potatoes
1 egg yolk
75g buckwheat flour
sea salt and freshly ground black pepper
gluten free flour for dusting

Peel the potatoes and cut into large similar sized chunks.
Put in a saucepan and cover with plenty of cold salted water.
Bring the water to the boil and cook the potatoes for about 15-20 minutes until they are soft but not falling apart.
Drain the potatoes and mash them or put them through a ricer so they are completely smooth.
Leave to cool and then add the egg yolk, flour and seasoning.
Mix to form a ball of dough and divide in half.
On a floured surface roll each half into a long, even sausage.
Slice into small pieces and separate onto a board or plate to transport to the pan.
Drop the gnocchi into a large pan of boiling salted water.
The gnocchi are done when they rise to the surface of the water. When this happens, remove from the pan and drain.
Serve with a topping of your choice. I coated mine with Sacla free from tomato pesto and served with roasted tomatoes, grilled chicken and fresh basil.

Back to more freefrom pasta/pizza recipes