Michelle's FreeFrom Turkey Roast with Honey with Sprout Purée
Can be wheat, gluten, corn, soya, nightshade, dairy, egg & nut free
A traditional Christmas dinner - with a difference.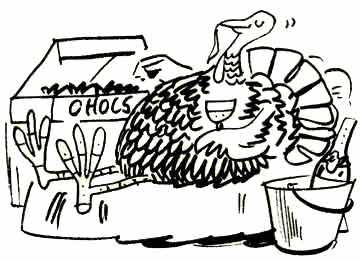 1 capon or small turkey
the liver from the bird, chopped
25g / 1oz butter or 2 tbsp olive oil
1 medium onion, chopped finely
large handful of parsley, chopped finely
1 tart eating apple or 1/2 a cooking apple, peeled and chopped small
75g / 2 1/2 oz plump raisins
rind and juice of 11/2 lemons
75g / 2 1/2 oz ground almonds or ground shelled hemp seeds
75g / 2 1/2 oz brown breadcrumbs or cooked rice
1 tsp each ground ginger and salt
1/2 teaspoon black pepper
1 egg (optional)
50g / 2oz butter or 4 tbsp olive oil
2 tbsp honey
Remove the giblets from the bird, keep the liver and chop it; throw out the rest. Heat the butter or oil in a saucepan and gently cook the liver, onion and parsley until the liver is firm and the onion soft. Take off the heat and add the apple, raisins, lemon rind and juice, almonds or hemp seeds, breadcrumbs or rice, seasoning and egg if you are using it. Mix the whole lot well together and stuff the bird at both ends.
Secure it with skewers and put it in a roasting pan. Melt the honey and butter or oil together and spoon them over the bird; as it cools it will cling to the skin. Leave the bird to marinate in the the honey, uncovered, in a fridge or larder, for 24 hours, spooning over any excess mixture whenever you are passing.
Roast the bird in a moderate oven (170C/ 325F/Gas mark 3) basting frequently with the honey and butter mixture for 20 minutes to each 450g / 1lb . The skin will gradually turn black and shiny in contrast to the white meat below. Serve hot or cold.
Serves 8 - per portion
446cals - 55g protein
17g total fat - 7g sat / 7g mono / 2g poly
20g carbohydrate of which 11g sugar
1.5g fibre - 472mg sodium / 1.2g salt
58mg calcium
Good Source of: Vitamin B2, B6, B12

Alternative Stuffing
Chickpea, Chestnut and Sun-dried Tomato
50g sundried tomatoes
400g cooked (or tinned) chickpeas
250g cooked (tinned) chestnuts
or - for nut-free version
500g chick peas and 150g tahini
200ml Madeira
salt & pepper
Soak the tomatoes in boiling water for 10-15 minutes to plump them, then chop small.
Purée the chickpeas with the chestnuts (or tahini) and Madeira in a food processor. How smooth you make the purée will depend on how smooth or 'bitty' you like your stuffing.
Add the tomatoes, season to taste and use to stuff the turkey.

Serves 8 - per portion
164cals - 4g protein
4g total fat - 0.3g sat / 0.7g mono / 1g poly
21g carbohydrate of which 4g sugar
3g fibre - 117mg sodium / 0.3g salt
38mg calcium
Sprout Purée
Wheat, gluten, corn,soya, egg & nut free; can be dairy free

700g Brussels sprouts, trimmed
700g Jerusalem artichokes, scrubbed and trimmed
or 700g sweet potatoes, peeled and cubed
25g butter, coconut oil or olive oil
salt, pepper and nutmeg
Steam the sprouts and the artichokes or sweet potatoes until they are soft. Purée both vegetables in a food processor with the butter, coconut or olive oil, seasoning to taste with salt, pepper and nutmeg.
Serve at once or reheat to serve. The purée also freezes well if you want to prepare it in advance.
Serves 6 - per portion
106cals - 2g protein
4g total fat - 2g sat / 0.7g mono / 1g poly
16g carbohydrate of which 4g sugar
7.5g fibre - 76mg sodium / 0.19g salt
57mg calcium
Good Source of: Vitamin C & folic acid
Back to more freefrom meat recipes