Michelle's FreeFrom Summer Barbecues
Wheat, gluten, corn, soya, cow's milk, egg & nut free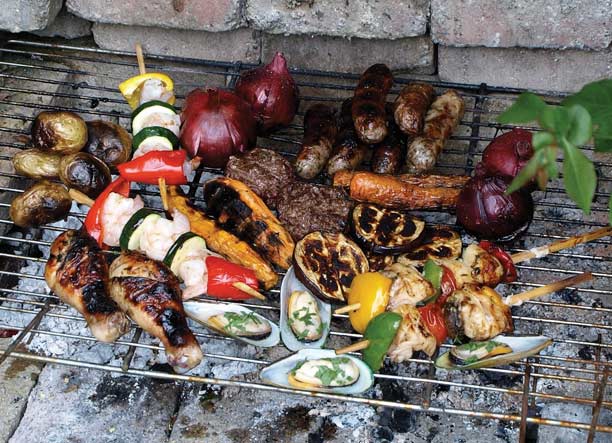 Barbecues are great for food allergic/intolerant people as they allow you to tailor your food to your own needs without it looking very different to what anyone else is eating. Moreover, the flavour given to your ingredients by cooking them in the open air over a charcoal fire means that you have little need for sauces or dressings which might harbour ingredients that you cannot tolerate.
Barbecues often seem to consist only of meat, which is not much good for vegetarians or those who are less than enthusiastic about chunks of bleeding steak! However, there is no reason why you should not cook a whole range of fish, vegetables or tofu chunks on your barbecue.
Ours below includes salmon and prawns as part of our kebabs but you could equally well have cooked your fish in steaks or fillets, just rubbed with oil and lemon juice and maybe sprinkled with some fresh herbs. Our mussels were a bit of a cheat as they had been precooked – but they did taste good warmed through with garlic goat's butter.

Barbecues are also brilliant for cooking vegetables. Ours included potatoes, sweet potatoes, carrots, onions and aubergines (eggplant) – apart from the vegetables incorporated into the skewer. But you could equally well have cooked corn on the cob, courgettes (zucchini), large mushrooms or beef tomatoes, whole small heads of fennel – or any other fairly solid vegetable that your vegetable garden or your greengrocer has on offer. Leafy vegetables don't work as they tend to curl up and fall through the rack into the fire!
Because most meats that you cook will end up quite dark, it is good to use some bright coloured vegetables to cheer it all up!
Chicken drumsticks
Marinade for 12 drumsticks
4 cloves garlic, crushed
3cm /1" piece of fresh ginger, peeled and grated
2 tbsp honey, melted
juice 2 lemons or 3–4 tbsp cider vinegar
leaves from a large sprig of fresh rosemary, chopped
Mix all together In a dish and leave the drumsticks to marinate for 3–4 hours, turning regularly.
Baste regularly with the marinade while barbecuing.
Kebabs
Large fresh uncooked prawns (shrimps) and/or steaks or fillets of salmon or other firm-fleshed fish
red, green and yellow peppers, cut into squares
button mushrooms
cherry tomatoes
olive oil, lemon juice, sea salt and freshly ground black pepper

Thread the ingredients onto skewers to make a bright
pattern. Brush the kebabs with oil and lemon juice and
grate over some salt and pepper before cooking.
Mussels
Ready cooked mussels in their shells – if you cannot get them in their shells you could just put cooked mussels in a metal dish and warm them through in that.
50g goat's butter
2 cloves garlic, crushed
chopped flat leaf parsley
Gently melt the goat's butter and add the garlic. Stir for a minute or two then remove from the heat and add the parsley. Drizzle over the mussels and allow them to marinate in the garlicy butter on the barbecue for 10 minutes or so before eating.
Burgers
We used grass-fed beef from the highlands of Scotland and absolutely nothing else – they tasted delicious.
Sausages
We used gluten-free lamb and rosemary sausages but you can use any of your favourite varieties.
Vegetables
Small newish potatoes, sweet potatoes and carrots
olive oil
sea salt and freshly ground black pepper

Peel the sweet potatoes and scrub the potatoes and carrots.
Pour some oil into a dish and season generously, Rub this mixture all over the vegetables before putting them on the barbecue.
Whole smallish red or white onions
Cut a small piece off from their root end so that they will stand up then roast, whole on the barbecue.
Aubergines (Eggplant) and whole small courgettes (Zucchini)

olive oil
sea salt and freshly ground black pepper

Cut the aubergines (eggplant) in thickish slices; leave the courgettes (zucchini) whole.
Mix the oil and seasoning as for the root vegetables. Rub this mixture over the courgettes (zucchini) and coat either side of the aubergine (eggplant) slices before putting on the barbecue.
Back to more freefrom meat recipes