Michelle's FreeFrom sort of moussaka........
Corn, dairy, egg, gluten, lactose, nut, soya and wheat free
This is a post Christmas 'use up' dish, as we had a huge rib of beef for Christmas dinner and despite the sterling efforts of all concerned, there still was some left at the end! However, any joint remains will do just as well as beef – lamb or even chicken would be very tasty.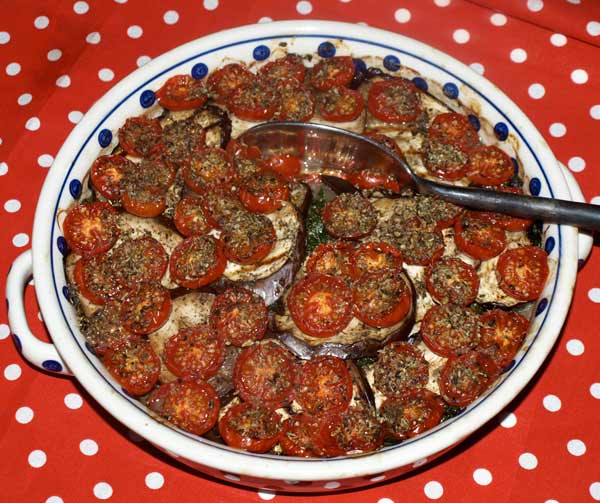 Serves 4
2 small–medium aubergines, sliced thinly
2–3 tbps olive oil
100g/4 ozs trimmed, chopped curly kale
2tsps dried oregano
sea salt and freshly ground black pepper
400g/14oz cooked beef, cut fairly small
300ml/10floz gluten and wheat-free beef, chicken or vegetable stock
300g/11oz cherry tomatoes, half horizontally
1 heaped tsp dried Italian herbs or herbes de Provence
Hea the oven to 180C/350F/Gas Mark 4.
Heat a little of the oil on a griddle and griddle the aubergine slices, or drizzle a little oil over the slices and cook on both sides under a hot grill.
Meanwhile, steam the kale for four minutes until it is well wilted.
Lay half of the aubergine slices out over the bottom of a wide ovenproof dish.
Sprinkle generously with sea salt, freshly ground black pepper and dried oregano.
Spread the kale over the meat and add the stock.
Lay the rest of the aubergine slices over the kale, then the tomatoes, insides up, over the aubergines. Sprinkle with more sea salt and freshly ground black pepper and the rest of the herbs.
Cover lightly with foil and bake for 30 minutes in the oven. Remove the foil and bake for a further 30 minutes.
Serve at once.
Back to more freefrom meat recipes