Sinnet Morch's miraculous chicken soup
Corn, dairy, egg, gluten, lactose, nut, soya and wheat free

As you know, I have severe SAD. (Click here for Sinnet's article on SAD.) In winter when colds and flu and other seasonal ailments kick in, it can be grim. That is when 'foods matter'. My favourite 'matter' food is the revered chicken soup. Many countries have their own versions – mine happens to be Hungarian. I make enough for two to three days for a proper cure. You will need two large 5 litre saucepans for this. If you decide to do one only, use a small chicken and halve the amount of other ingredients.
Preparation time: 1 hour
Cooking time: 2 hours.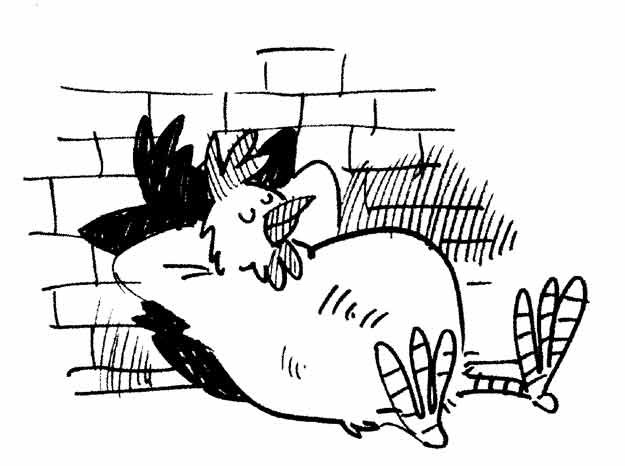 1 large free-range chicken
12 medium French onions
12 medium new potatoes
12 carrots
8 parsnips
small turnip
½ swede
2 leeks
stick of celery
2 green peppers
6 medium, ripe tomatoes
bunch parsley
1 pack black pepper corns
salt
Cut the chicken in 10 pieces.
Discard the skin and fat from the chicken.
Peel the onions and leave whole.
Peel the potatoes and leave whole.
Peel the carrot and cut into 4 pieces.
Peel the parsnips and cut in 3 pieces.
Peel the turnip and swede and cut them into similar size pieces as the parsnips and carrot.
Discard the green on the leeks and cut into largish pieces.
Discard the leaves from the celery and cut into largish pieces.
Discard the pips and stem from the peppers and cut into long strips.
Leave the tomatoes whole and the parsley in a bunch.
Rinse all the ingredients thoroughly.
Half fill the saucepans with coldwater from the tap then place over a medium heat.
Share the chicken pieces between the two saucepans. As they come to the boil you will need to skim any scummy froth which rises.
Divide the rest of the ingredients between the two pots as follows:
Add 1 whole packet of peppercorns. Reduce to a simmer.
Add a bunch of parsley then add the rest of the ingredients in the following order:
whole onions
whole potatoes
carrots
parsnips
turnip
swede
leeks
celery
peppers
whole tomatoes
½ teaspoon salt
Do not be tempted to add other vegetables of your choice; this soup is perfect as it is. You will need to keep an eye on the soup to make sure that it remains at a simmer, the essential heat if you are to get the full effect!
Simmer for 2 hours, then taste and add extra salt if needed.
Eat……….
Back to more freefrom meat recipes