Michelle's FreeFrom sausage and lentil casserole
Corn, dairy, egg, gluten, lactose, nut, soya and wheat free
Warming, filling and tasty!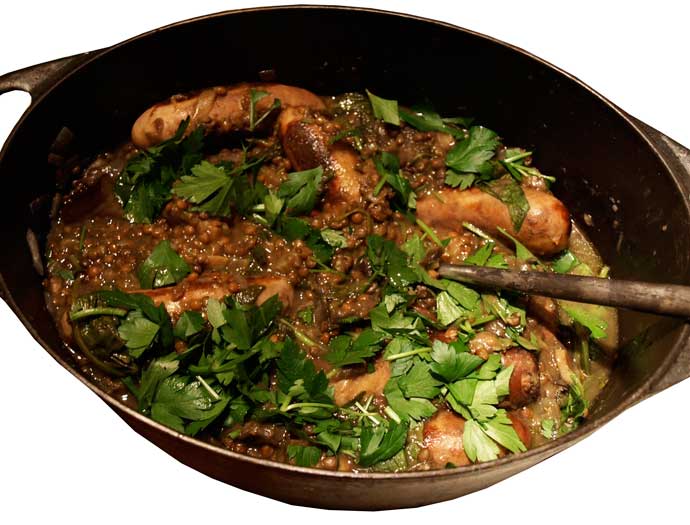 Serves 6
11/2 heaped tbsp coconut oil or 3 tbsp olive oil
1 large onion, peeled and chopped fine
2 large cloves garlic, peeled and sliced
50g/2oz piece fresh ginger, peeled and chopped fairly small
3 Bird's eye green chillis, pipped and sliced thinly crossways
2 sticks celery, trimmed and chopped small
1 large or 2 small aubergines, cut into fairly small diced
250g / 9oz Puy lentils
750ml/25floz gluten and wheat free vegetable or chicken stock
12 large gluten, wheat and dairy-free sausages – whatever meat that you fancy
200g/7oz fresh spinach, large mature leaves if possible, torn up fairly small
sea salt and freshly ground black pepper
2 generous handfuls of parsley, roughly chopped
In a large heavy pan heat one tablespoon of coconut oil or two of olive oil and add the onion, garlic, ginger, chillis and celery. Fry gently for 8–10 minutes or until the vegetables are softening. Add the aubergines and continue to fry for another few minutes.
Add the lentils, stir around, then add the stock. Bring to the boil and reduce the heat, cover the pan and simmer gently for 25–30 minutes or until the lentils are nearly cooked and the liquid largely absorbed.
Meanwhile, fry the sausages in the remaining oil in a wide pan until they are nicely tanned on all sides.
Add the sausages and spinach, stir well in and cook for another 5 minutes to amalgamate the flavours and finish cooking the lentils. Add a little extra stock if it is drying up.
Season to taste with sea salt and freshly ground black pepper.
Just before serving add the parsley.
Serve with a green vegetable or salad.
Back to more freefrom meat recipes