Michelle's FreeFrom Roast Spring Lamb
Dairy, wheat, gluten, corn, soya, egg & nut free
Spring lamb is still very much a treat at this time of year. Roasting the
vegetables with the meat seems to add to the flavour of both.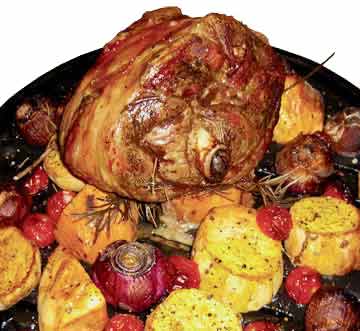 1.5-2 kilo / 3 1/2-4 1/2lb leg of lamb
4-6 large cloves of garlic
2 large sprigs of fresh rosemary or 1 tsp dried
3 largish sweet potatoes
6 medium red onions
18 cherry tomatoes
sea salt and freshly ground black pepper
a little olive oil
1 level tbsp flour, wheat or gluten-free
100ml / 3fl oz light red wine
300ml / 10fl oz gluten/wheat-free vegetable
or meat stock
Heat the oven to 180C/350F/Gas mark 4.
Check the weight of the lamb - you will need to cook it for 20 minutes per half kilo / 1lb with an extra 20 minutes added on.
Cut 4-6 slits in the lamb. Peel the garlic cloves and insert them into the slits.
If using fresh rosemary, lay the sprigs out on a rack over a baking tray and lay the lamb over them.
Peel the sweet potatoes and cut into fairly large pieces; arrange them round the lamb.
Peel the onions and arrange them, whole, around the lamb. If you are using dried rosemary, sprinkle it over. Cover with foil and bake for half the total amount of time.
Remove from the the oven, remove the foil, scatter the tomatoes around on top of the other vegetables, grate over some sea salt and black pepper and drizzle a little oil over the vegetables.
Lay the foil back over the meat but do not tuck it in. Return to the oven for a further 20 minutes then remove the foil entirely.
When the meat is cooked, remove the rack with the meat and vegetables and keep warm.
Over a low heat stir whatever flour you are using into the juices in the bottom of the baking tray then gradually add the liquid. Cook, stirring continually, until the gravy thickens then season to taste.
Serve with the lamb and a green vegetable.
Serves 6 - per portion
518cals - 43g protein
15g total fat - 7g sat / 3g mono / 0.6g poly
42g carbohydrate of which 14g sugar
5g fibre
93mg sodium / 0.02g salt
Good Source of:Vitamins A, B6 & C, iron & zinc
Back to more freefrom meat recipes