Michelle's FreeFrom Puy lentils with chorizo
Corn, dairy, egg, gluten, lactose, nut, soya & wheat free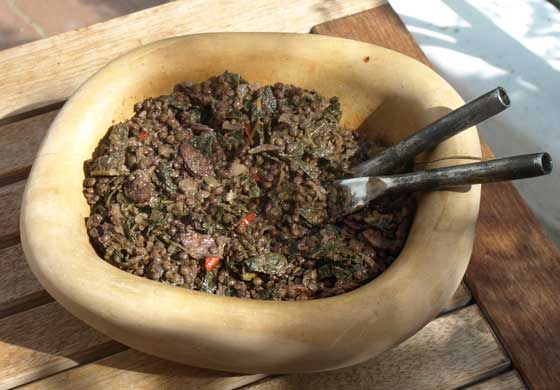 As with all such dishes, the flavours will develop if you cook it the day before you want to eat it.
2 tbsp coconut oil
2 medium onions, finely chopped
2-4 chillis, depending on how hot you want it and the heat of the chillis
150g hot chorizo sausage, sliced thinly
200g puy lentils
100g cavolo nero leaves, chopped fairly small
200ml red wine
300ml gluten and wheat free chicken of vegetable stock
sea salt and freshly ground black pepper
Heat the oil in a heavy casserole and add the onions, chillis and chorizo. Fry gently for 10-15 minutes or until the onions are quite soft. Add the lentils, leaves, wine and stock, bring to the boil and simmer gently for 30-35 minutes or until the lentils are cooked and most of the liquid absorbed.
Season to taste and serve warm or at room temperature.
Back to more freefrom meat recipes