Michelle's FreeFrom Pot roast with chestnuts
Corn, egg, dairy, gluten, lactose, nightshade, soya and wheat free; can be nut free
If you cook this long and slowly enough the beef should melt in your mouth. The chestnuts add an interesting other layer of flavour but are absolutely not essential; the coconut oil adds smoothness but the flavour will still be excellent with olive oil. It will improve if you cook it the day before you need it, allow it to cool in its juices and then reheat gently to serve.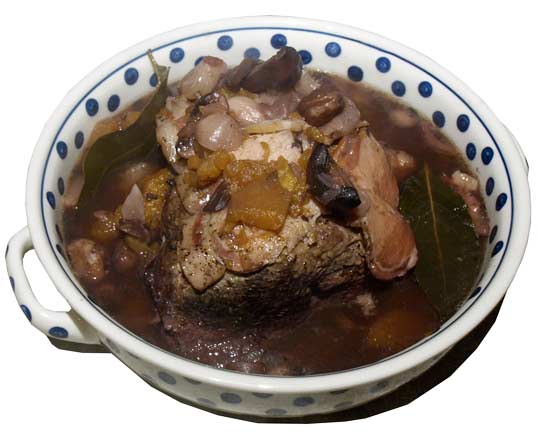 Serves 6
1 tbsp coconut oil or 2 tbps olive oil
10 shallots, peeled
4 cloves garlic, peeled
10 large or 15 small button mushrooms, halved
400g / 12 ozs sweet potato, peeled and cubed or cut in thickish slices
1 – 1.5 kg topside, neatly tied in a roll
4 bay leaves
500ml /18 floz red wine
200g/7oz cooked chestnuts (optional)
sea salt and freshly ground black pepper
In a heavy, flame proof casserole heat the coconut or olive oil and gently fry the shallots, garlic, mushrooms and sweet potato pieces for 10–15 minutes or until they are lightly tanned and softening.
Sit the beef on the top of the vegetables, tuck the bay leaves down the side, pour of the wine and cover the pot tightly.
Bring slowly to the boil and them turn down to a bare simmer. Cook very gently for 1 hours then add the chestnuts, if you are using them, and continue to cook very gently for a further 1½ – 2 hours. Allow to cool in its juices.
To serve, reheat gently, season the juice to taste then carefully lift the beef onto a serving dish and surround it with the vegetables and stock.
Serve with baked or mashed roots (potato, parsnip, sweet potato, celeriac etc) and a green leaf vegetable (cabbage, chard, spinach, sprouts etc)
Back to more freefrom meat recipes