Michelle's FreeFrom potato, sausage and tomato pie
Corn, egg, gluten, nut, soya & wheat free; can be dairy and lactose free
Warming and yummy for a freezing July evening! Vegusto were the winners of the 2012 FreeFrom Food Awards and this 'melty' cheese is really excellent, given that it is not only dairy but gluten, egg and soya free.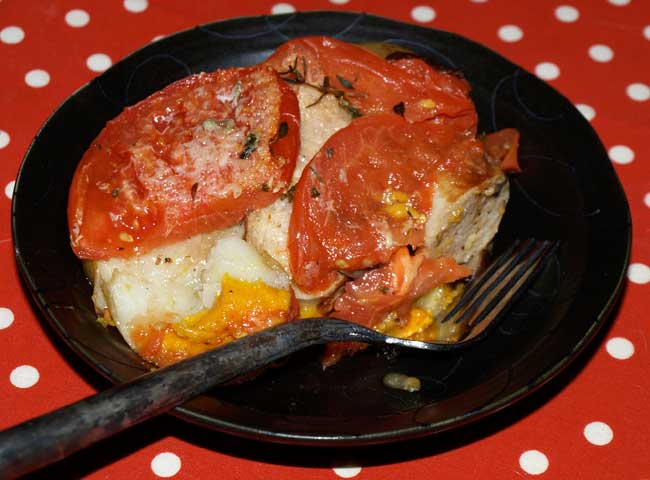 Serves 4
6 medium potatoes, scrubbed and sliced thickly
3 medium sweet potatoes, peeled and sliced thickly
1heaped tbsp coconut oil or 2 tbsp olive oil plus 2 extra tbsp olive oil
sea salt and freshly ground black pepper
6 fat, gluten and wheat-free sausages
200g field mushroom, sliced
3 large beef tomatoes or 6–8 medium tomatoes, sliced thinly
thyme
25g Vegusto dairy & soya-free hard 'cheese', or Parmesan or cheddar, grated
Steam the potatoes and the sweet potatoes until cooked. Transfer into a wide, warmed, ovenproof dish and season well. Drizzle over 2 tablespoons of the olive oil.
Meanwhile, gently fry the sausages in the coconut oil or remaining olive oil and when they are nearly cooked, add the mushrooms and continue to fry briskly to the mushrooms start to give their juice.
Heat the grill.
Remove from the heat, slice the sausages thickly and arrange over the potatoes. Spoon over the mushrooms then top with tomato slices.
Sprinkle with thyme (fresh, if possible) and the grated cheese.
Put under a hot grill for 10 minutes or until the tomatoes or hot and lightly cooked, the cheese melted and the top slightly browned.
Remove and eat at once.
Back to more freefrom meat recipes