Polenta Colcannon
Egg, gluten, lactose, milk, nightshade, nut, peanut, sesame, soya & wheat free
It is a bit of a stretch to describe this as colcannon but it was the inspiration for this dish. I have replaced the potato with creamy yellow polenta and spiced up the ham with chorizo. You can also swap the cabbage for kale. This is what I call 'football food' - curl up on the sofa with a bowl and a spoon!
Serves 4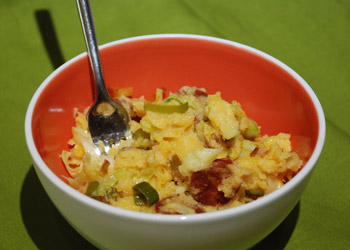 Ingredients
750ml water
150g polenta (coarse cornmeal)
salt & freshly ground pepper
225g chorizo (check ingredients)
1 leek, halved & sliced
½ pointed (or other variety) cabbage
Method
Bring the water to the boil.
Slowly add the polenta while stirring.
Continue to stir the polenta on a high heat for about 2 minutes.
Turn the heat down and gently cook for about 35-40 minutes, stirring roughly every 5 minutes to prevent the mixture catching on the bottom.
The polenta is cooked when it is smooth and creamy and comes away from the sides of the saucepan.
Season the polenta well with salt and pepper.
While the polenta is cooking, slice the chorizo into disks and fry without oil until browned and crispy.
Remove the chorizo from the pan, reduce the heat and soften the leeks in the chorizo oil.
Thinly slice the cabbage and add to the leeks.
Place a lid or cover the pan to steam the cabbage until cooked but still crunchy (over cooking cabbage is what makes it smell!)
Mix the chorizo in with the leek and cabbage.
Add the cooked polenta to the chorizo mixture and stir thoroughly.
Serve immediately.
We have over 800 delicious freefrom recipes on this site all of which are gluten free, most of which are dairy and lactose free and many of which are free of most other allergens. Please go to the following sections to try them out: