Michelle's FreeFrom Pigeon or Squab Pie

Gluten, nightshade, nut and wheat free; can be corn, dairy, egg, lactose and soya free
Autumn is the time for game birds – and for mushrooms – so even though any pigeons that you buy are more likely to have been bred for eating than shot on the wing, the flavour remains good.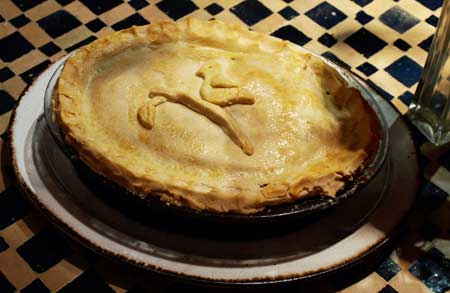 6 tbsp olive oil
12 shallots, peeled
6 pigeons/squab
300ml/1 ¼ cups Marsala
4300ml/ 1 ¼ cups gluten and
wheat free vegetable or meat stock
large sprig fresh rosemary or 2 heaped tsp dried
150g/ 6oz mixed autumn mushrooms, halved or chopped very roughly
1 level tbsp gluten and
wheat free flour
sea salt and freshly ground black pepper
Pastry
200g/7ozs gluten and wheat free flour (we used Doves Farm)
1—g/3 ½ oz goats butter or dairy-free spread
approx 4 tbsp chilled water
1 egg, beataen – optional
Heat 3 tbsp of the oil in a heavy casserole and briskly fry the shallots for a couple of minutes. Add the pigeons/squab and continue to fry for a further 3–4 minutes or until you have lightly seared the birds' breasts.
Add the Marsala, stock and rosemary, cover and bring slowly to the boil. Reduce the heat and simmer, covered, for 2 hours.
Meanwhile, make the pastry by whizzing the flour and butter or spread in a food processor for 30 second or until they are mixed to bread crumb consistency.
Turn into a bowl, make a well in the centre and add the water. Quickly work the pastry together until the forms a ball. Wrap in clingfilm and chill until needed.
After 2 hours remove the birds from the casserole, taking care to remove any small bones which may have become detached from the carcass. Remove the breasts and set aside. Put the carcasses in another pot ready to make stock for soup or other purposes.
Heat the oven to 180C/350F/Gas mark 4.
In a clean pan heat the remaining oil and lightly fry the mushrooms for a couple of minutes. Add the flour, cook for a minutes then gradually add the stock and the shallots from the original pot. You will need about half the total amount of stock but try to make sure that you get all the shallots. Cook, stirring until the sauce thickens then add the pigeon breasts. Mix well and then season to taste with seas salt and freshly ground black pepper. Add extra stock if it is too thick or not juicy enough.
Spoon the breasts and stock into a pie dish.
Between two sheets of lightly floured clingfilm, roll out the pastry to jstu abit bigger than the dish. Cut a border off and, having dampened the edges of the dish, put a pastry border round the pie dish. Dampen the border then carefully lift the pie lid onto the pie and press down around the sides. Decorate with pastry trimmings and, if you are using it, paint with the beaten egg.
Bake for 40 minutes or until the pastry is cooked and lightly tanned.
Serve with root and green vegetables.
Serves 6
Back to more freefrom meat recipes